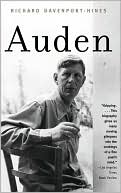 W. H. Auden died on this day in 1973, aged sixty-six. Music from Wagner's Ring cycle was played at his funeral in Kirchstetten, Austria, as he had wished: "When my time is up I'll want Siegfried's Funeral Music and not a dry eye in the house." The closing two lines from his poem "In Memory of W. B. Yeats" were chosen for the inscription on his grave:
…With the farming of a verse

Make a vineyard of the curse,

Sing of human unsuccess

In a rapture of distress;

In the deserts of the heart

Let the healing fountain start,

In the prison of his days

Teach the free man how to praise.
For his last fifteen years, Auden had spent up to six months a year in the Kirchstetten area, the location chosen largely because it gave him access to the Austrian opera houses. His converted eighteenth-century farmhouse — not that converted: one biographer reports that he and companion Chester Kallman had three cats, two goats, one pig, two hens, and 173 goldfish — was the only home he ever had. These lines are from the series of poems "In Thanksgiving for a Habitat," published in the 1965 collection, About the House:
…what I dared not hope for or fight for

is, in my fifties, mine, a toft-and-croft

where I needn't, ever, be at home to

those I am not at home with, not a cradle, a magic Eden without clocks,

and not a windowless grave, but a place

I may go both in and out of.
Auden had continued to give readings in Europe and America during his last years, and in 1972 he had agreed to return to Oxford as poet/personality-in-residence during the school term. According to his older brother, the geologist and explorer John Auden, the expectation of "a quasi-monastic existence among colleagues at Oxford" had not been met, and the poet at the end was a long way from hearth-happiness:
Seen unawares in an armchair, with The Times crossword puzzle on his knee, a vodka martini by his side and cigarette-ends covering large dishes, there was an isolation and sadness which arose from his uprooted and solitary existence.
---
Daybook is contributed by Steve King, who teaches in the English Department of Memorial University in St. John's, Newfoundland. His literary daybook began as a radio series syndicated nationally in Canada. He can be found online at todayinliterature.com.