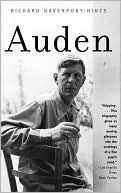 May 20: On this day in 1937 W. H. Auden's Spain was published. The proceeds from sales of this pamphlet-length poem went to the Spanish Medical Aid Committee, one of a number of international organizations supporting the anti-Franco cause, and a group which Auden had tried to join as an ambulance driver in Spain just months earlier. One who would have had need of such aid was George Orwell: on this same day in 1937, while in Spain fighting for the Republican cause, Orwell was shot in the throat in front-line fighting.
Auden and Orwell were among many writers and intellectuals provoked into action or art by the Spanish conflict. Pablo Neruda's Spain in the Heart poems were published in 1937, and the documentary The Spanish Earth, on which Hemingway, John Dos Passos, Lillian Hellman, and others collaborated, was being screened at fundraisers in the U.S. at this time. Auden's Spain was part of the general and recurring debate over the West's moral responsibility and military role in countries suffering under a despot. His poem was clearly on the side of doing more than talk, a plea to his contemporaries that "Our moments of tenderness blossom / As the ambulance and the sandbag; / Our hours of friendship into a people's army." As Auden saw it, there would be plenty of time for guilt and politics later, "But today the struggle":
Today the deliberate increase in the chances of death,

The conscious acceptance of guilt in the necessary murder;

To-day the expending of powers

On the flat ephemeral pamphlet and the boring meeting….
Orwell praised Auden's Spain as "one of the few decent things that have been written about the Spanish war," but he objected strongly to the idea that those who intervened on the Republican side should have any "guilt in the necessary murder." After the combat injury, and after having to flee Spain for political reasons, he spent a lifetime speaking out for the socialist ideal; Auden revised and eventually renounced Spain, feeling it inferior as both politics and poetry.
---
Daybook is contributed by Steve King, who teaches in the English Department of Memorial University in St. John's, Newfoundland. His literary daybook began as a radio series syndicated nationally in Canada. He can be found online at todayinliterature.com.