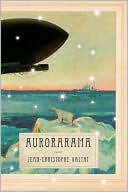 Jean-Christophe Valtat's Aurorarama is atoothsomely sweet serving of Baked Alaska that conceals an anarchist's timebomb inside. Melding the droll, rococo politesse of Jack Vance with thephantasmagorical realpolitik of China Miéville, Valtat conjures up an exotic,polychromatic world too real not to exist somewhere, if only in a luckier, moredelirious and glorious universe adjacent to ours. Exemplifying Italo Calvino'smandate for "lightness" in fiction—Valtat's bold and capriciousdirect-to-English prose, not translated from his native French, dances acrossthe page like Saki's or Firbank's—while also embodying Mark Helprin's nostalgicmoral seriousness—think Winter's Taleon ecstasy—this opening salvo in a snowball cannonade of fantasy promises toattract discerning and sophisticated readers galore, those fans of thefantastical who are tired of second-hand visions and stale conceits.
Valtat's premise: at some point in the nineteenth century, during thegreat burst of polar exploration, an Arctic city named New Venice was founded,roughly five hundred miles from the North Pole. "…an off-white grid offrozen canals and deserted avenues, lined with impressive neoclassical and ArtNouveau buildings. In the twilight, their incongruous stuccoed, statue-hauntedsilhouettes, rising darker against the darkening horizon, gave the eerieimpression that they had been cast down from the sky like palaces from anotherplanet."
In the present day of the novel (1908), the historied metropolis is aunique hive of decadence, fermenting art movements, and "poletical"turmoil. We experience its intricate backstory, current imbroglios, scandalsand rivalries through twinned narrators. Brentford Orsini is the morerespectable figure of the two, keeper of the city's greenhouses. His good friendGabriel d'Allier is a louche professor and bohemian. Accompanying them inalternating chapters, the reader will visit dozens of bizarre venues andexperience plenty of weird technology, delightfully eccentric characters,consumated and frustrated romances, much mystery and many thrills.
Valtat's invention of names and history for New Venice is prodigious,and some new startlement leaps out of every page. Consider the confectionarydescription of the Blazing Building in Chapter XV,for instance, with its elaborate marble and mosaic floor. Not content with thelushness of that imagery, Valtat adds, "In the very center of the Hall,the North Pole was represented by a fountain rising from a basin of snowflakeobsidian; its dangling stalactites, kept contantly frozen, were sculpted in theshapes of Northern divinities of different traditions. Through thestained-glass openings in the base of the lofty dome overhead, various shadesof light fell on the translucent fountain to simulate, even by day, the coloursof the Northern Lights." Marvelous, perfect, and perfectly marvelous!
Valtat's novel is Little Nemo inSlumberland as retold by a trio of Jeff Noon, Steve Aylett andWilliam Burroughs. I can hardly wait for its sequels.
–PAUL DI FILIPPO
---

Paul Di Filippo's column The Speculator appears monthly in the Barnes & Noble Review. He is the author of several acclaimed novels and story collections, including Fractal Paisleys, Little Doors, Neutrino Drag, and Fuzzy Dice.