The art, science, and struggle of teaching and learning.
---
By Muriel Spark
At of heart this deceptively slim novel is the larger-than-life figure of Miss Brodie, a teacher the staid Marcia Blaine School for Girls in Edinburgh just before the outbreak of World War Two. Readers, much like her pupils, are sure to fall under her spell. But is she a dangerous fantasist or merely living her life vicariously through the girls she teaches?
---
By Jay Mathews
The inspiring, important, and compelling story of how two young educators turned their personal failures in the Teach for America program into a new classroom paradigm, creating the acclaimed Knowledge Is Power Program (KIPP), which today includes 66 schools in 19 states.
---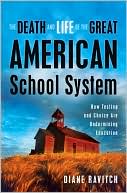 The Death and Life of the Great American School System
By Diane Ravitch
A passionate plea to overhaul public education and a scathing indictment of today's most popular ideas for restructuring schools, such as privatization, standardized testing, punitive accountability, and charter schools. Ravitch, a former assistant secretary of education, insists that decisions about schools should be left in the hands of teachers, rather than bureaucrats and politicians.
---
By Esmé Raji Codell
Affectionate, unconventional, imaginative, fearless, Esmé was only 24 years old when she got her first job teaching fifth grade in an inner city school. Determined that her kids were going to learn, she let nothing — not dim-witted principals, abusive parents, gang members, or her own insecurities — stop her.
---
By Joe Miller
This extraordinary account of Kansas City Central High School's debate team is perfectly summed up by its subtitle: "The Amazing True Story of How the Most Unlikely Team from the Most Unlikely of Places Overcame Staggering Obstacles at Home and at School to Challenge the Debate Community on Race, Power, and Education."