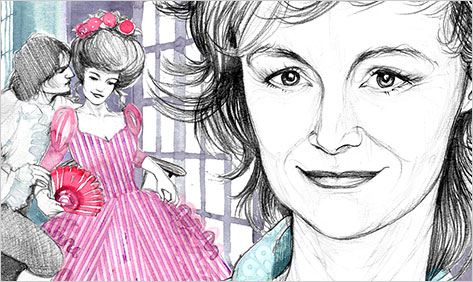 Baggage. We all have it. I'm not talking about battered suitcases, or even spectral chains made of moneyboxes, a la Scrooge, but emotional baggage — the dents and bruises of previous relationships. For example, when a date, no matter how handsome, confides that his ex-wife took out a hit on him, and he has some problems with trust, any sensible woman knows a relationship with him would be an uphill battle. All five of the romances in this column depict couples grappling with problems whose roots are in the past, whether that flawed relationship was with others or each other.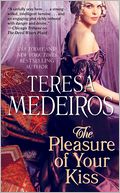 Teresa Medeiros's The Pleasure of Your Kiss exemplifies precisely why stories of love encumbered by old wounds can be such fun to read. Ashton Burke and Clarinda Cardew fell desperately in love as youngsters in 19th-century England, and after one unforgettable summer, he promised to come back for her…but he never did. Heartbroken, Clarinda waited years before even thinking of marriage, while Ashton made himself into a famous adventurer, rescuing Hindustani princesses, watching the sun set over the pyramids of Giza, riding an elephant across the veldt. It's only when his brother summons him to rescue his fiancée, who has been sold into a sultan's harem, that Ashton discovers that Clarinda is not married – and is, in fact, betrothed to his brother. There are harrowing harem captive stories, of course, but this is not one of them. Clarinda is unharmed, and the harem is peopled with eccentric, charming characters (including the plump sheik, who went to Eton and has his own delightful love story). But the fierce emotions that bind Ash and Clarinda — love, bitterness, rage, and passion — are what make the story sing. The Pleasure of Your Kiss kept me reading half the night and it was worth every sleepless moment.
Lyra Dore, the heroine of Jayne Castle's Obsidian Prey, was also betrayed by the novel's hero in the past, but in an even more painful fashion: Cruz Sweetwater stole her newly discovered amethyst cache on his way out the door. As Lyra says, "Some men walked straight out of a woman's dreams. Some qualified as full-on nightmares." I'm a huge fan of the author's series of Harmony novels, set on a wild-west planet with paranormal flourishes, and Obsidian Prey is one of the best. (Jayne Castle, by the way, is also Jayne Ann Krentz.) Lyra is an independent prospector, whose cache of amethysts is "confiscated" by the CEO of a powerful amethyst company. That CEO turns out to be Cruz, who had been courting her under an assumed name. Cruz doesn't bother to contact her for three months after she throws him out, but even more mortifying, when he does show up, Lyra's heart still races at the sight of him. She can't help hoping that he's come to beg her forgiveness…but no, he's only there to ask for her help with a crisis. There's no getting around the fact that humiliation works brilliantly as a driving force in romance. As Cruz takes on the nearly impossible task of winning his way back into Lyra's good graces, you'll enjoy every battle-filled page!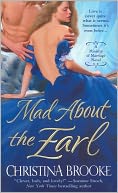 Lady Rosamund Westruther and Griffin, Earl of Tregarth, in Christina Brooke's Mad About the Earl, have a different kind of history. Three years before the novel begins, they met for the first time — as a betrothed couple. Rosamund was wildly excited, already in love with the Earl whose miniature she carries around her neck. But Griffin turned out to be nothing akin to the aristocratic prince she imagined: he resembles a gargoyle (in his own estimation), and an "uncouth, overgrown ape" (in Rosamund's mother's sum-up). Rosamund, on the other hand, is blue-eyed, mouthwatering perfection, a princess from a fairy tale. After one wildly sensual kiss, Griffin spurns her, and it's only years later that he's finally blackmailed into going through with the wedding. Naturally, Rosamund is furious and humiliated; when he writes to demand the wedding, she replies: "You must forgive me if I say that at first I was at a loss to recall who you were." Theirs is not an obvious marriage-made-in-heaven, but the story of their passionate, combustible turmoil is heavenly for the reader. As in The Pleasure of Your Kiss, the fact that the hero refused to marry the heroine only makes his inevitable come-uppance all the more pleasurable.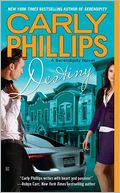 The couple in Carly Phillips' Destiny are bonded not by a past flirtation, but by their family ties. Kelly Moss is the sister of Nash Barron's half-sister (though no blood relation), but the main thing Nash knows about her is that she unceremoniously dumped her teenage sister with the Barrons, taking off for parts unknown. Now she's returned, but Nash is wary of a woman who could act in such a callous manner. Nash is no saint either; his first marriage ended after his wife threw him out. But he can't seem to stop trying to help her anyway. In short, neither one of them looks good on paper. Yet Destiny unfurls complicated stories that belie simple moral judgments. Kelly and Nash stumble several times as they come to know each other; they both have insecurities and griefs to overcome, and they must learn to share their problems rather than hiding them. But this charming story of second chances illustrates that true love can overcome even the worst mistakes of the past.
Generally speaking, I don't include anthologies in this column because often the stories are not all of the same caliber. Be My Texas Valentine, by Jodi Thomas, Linda Broday, Phyliss Miranda, and DeWanna Pace breaks the mold. Every one of these four short romances is terrific — and in particular, Jodi Thomas's story, "The Valentine's Curse," features a hero and heroine who could practically define the term "emotional baggage." It's 1867, and Broderick Monroe lives in East Texas — but Brody's a Yankee who fought for the North. The war ended two years ago, but it's no wonder everyone at the Double R ranch enjoys tormenting him. Valerie Allen, mostly known as Widow Allen, is even more isolated: she's buried two husbands, and the entire town thinks there's a curse on her. No man will come within ten feet of her…until Brody sits down beside her at a dance. Their story makes for a perfect novella: heart-wrenching, passionate, deeply felt, and deeply sweet.
---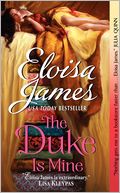 Eloisa James's latest novel, The Duke is Mine, is out now!
Also, from January 1 until January 28, bring your NOOK to a Barnes & Noble store, navigate to "More In Store" and download an original mini-novella by Eloisa entitled "Ever After" for free.
Please do check out Eloisa's past columns in the Archives, and if you'd like to get her reaction to romances as she reads them, follow her on Facebook or Twitter.
For sneak peeks at all Eloisa's romances, please visit her web site at www.eloisajames.com.