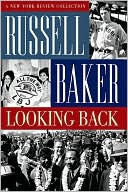 Russell Baker was born on this day in 1925. One of Baker's two Pulitzer Prizes was awarded in the biography category, for the 1982 bestseller Growing Up; the other came in 1979 for commentary — the New York Times column Baker began in 1962 and maintained for the next quarter century. The popular columns were later collected in Looking Back and There's a Country in My Cellar, still highly regarded for their witty and wise perspective upon the second half of the twentieth century.

In the introduction to There's a Country in My Cellar, Baker describes the recurring nightmare of the syndicated columnist: sitting before the typewriter and its blank paper, "without an idea in the world and deadline getting closer and closer, thinking, 'This is the end, this is the day I finally can't write the thing before deadline, this is the day I go out the window….' " And then the recurring miracle descends, on this occasion fashioned from the recurring nightmare itself:
On one peculiarly desperate day the paper was still blank though I had been four hours at the typewriter. I had passed beyond panic into resignation. It felt like doomsday. I was going to miss the deadline. I was through, washed up, kaput. It was the end of the world. Very calmly I typed out the bad news: "The world was coming to an end."

Taking this as its cue, my mind sent down something it had tucked away when it should have been loafing; to wit, that nothing interesting could happen anymore without being trivialized by public-relations overkill. The process was invariable:

First, news of Great Event; second, excessive hype of Great Event by media desperate for material to fill paper and air time; third, exploitation of Great Event by everybody with something to sell; finally, utter public fatigue with Great Event.

And so, after I wrote, "The world is coming to an end," the column began to write itself. Somebody would blame it on "pseudo-intellectuals," somebody would offer a fourteen-point plan, the stock market would post huge gains, sportswriters would argue whether it was good for baseball, soap-opera fans would protest TV plans to interrupt their favorite shows for live coverage of the terminal event. Finally, the end of the world was canceled on account of public boredom. I had survived another deadline.
---
Daybook is contributed by Steve King, who teaches in the English Department of Memorial University in St. John's, Newfoundland. His literary daybook began as a radio series syndicated nationally in Canada. He can be found online at todayinliterature.com.