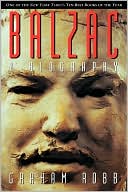 August 18: On this day in 1850 Honoré de Balzac died at the age of fifty-one. Balzac's last months were as tumultuous as all the others, and as brimming with life as anything in his seventeen-volume Human Comedy. The Polish Countess with whom he had been corresponding for sixteen years had pledged to marry him, contingent upon her husband's death, and she was now, technically, available. But wary of Balzac's debts, family, and appetite for romance, Countess Hanska had cooled. Balzac was on his last legs by the time she had warmed again, but he rushed to her estate—this cannot be the correct term: 21,000 acres, 3,000 serfs (counting just males), 300 servants, its own orchestra and hospital—bringing four-dozen pairs of gloves for Countess Hanska's beautiful hands. Eugène de Rastignac, one of Balzac's most famous and recurring characters—like Balzac, Rastignac was a provincial come to Paris with big dreams—had learned such courting lessons in Père Goriot: "I know two pairs of his trousers," Rastignac liked to say of his tailor, "that have each made matches worth twenty thousand francs a year."
Balzac had spent, says one biographer, "most of his adult life teetering between extremes of wealth and poverty." Whether by personality or need—one of his wild, bankrupting schemes was to turn the land around his house in Paris into a pineapple farm—he wrote incessantly. His doctor attributed his death to a weak heart done in by a lifetime of all-night writing and coffee-drinking; Balzac himself believed that everyone has a finite store of vital fluid, which diminished with each action or desire, and so a man of his appetites was doomed to die early. In any case, he won the Countess, but had just five months of marriage before his death. He was buried on a hillside in Père Lachaise cemetery, Hugo and Dumas among his pallbearers, thousands following his coffin through the streets of Paris. Perhaps his greatest tribute was the plaster cast made of his right hand, responsible for some 100 novels.
---
Daybook is contributed by Steve King, who teaches in the English Department of Memorial University in St. John's, Newfoundland. His literary daybook began as a radio series syndicated nationally in Canada. He can be found online at todayinliterature.com.