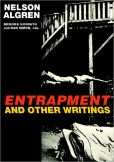 Russell Banks was born on this day in 1940, and Nelson Algren was born on this day in 1909. In his Introduction to a recent edition of Algren's A Walk on the Wild Side, Banks describes the beginning of his friendship with Algren, who came to offer "fatherly protection, encouragement and example all at once":
I was a 23-year-old pipefitter in Concord, N.H., who hadn't gone to college but had written a novel that, despite a few striking paragraphs here and there, was quite simply awful. I took off work for a week and lugged my manuscript to the Bread Loaf Writers' Conference in Vermont, where Algren was on the staff, more or less…. He read my manuscript, as he was paid to do, quickly located those few striking paragraphs and pointed them out to me and made it clear that I was supposed to do the rest myself…. But meanwhile, he said, since I had wheels and we were stuck up here on this mountain surrounded by writers drinking sherry with their little fingers in the air, and since he, like Jack Kerouac, didn't drive, why didn't I take him to Middlebury for a beer and then maybe we'd go on to visit his pal Paul Goodman, who had a summer place somewhere nearby?
Algren felt an allegiance to the marginalized, and bristled at the complacency of those whom he saw as responsible. The following condemnation is excerpted from his 1957 essay "Ain't Nobody on My Side?":
Surely never before has any people lived so tidily in the midst of such psychological disorder. Never has any people deodorized, sanitized, germproofed, cellophane and hygienized itself so thoroughly, and still remained stuck with the sense of something dead under the house. Never have so many two-baths-a-day people gone to so many analysts to find out how to quit washing their hands.
A half century later, in his contribution to the 2009 PEN essay anthology Burn This Book, Banks laments a culture that has thrown aside such voices of protest:
Yes, it's true that in a democratic republic like ours one can say and publish almost anything one wants to, but it's also true that, when the literary artist is regarded as a mere entertainer, only a little more essential to the commonweal than Michael Jackson and Britney Spears, a luxurious diversion in other words, then he or she will end up marginalized, forced to speak solely to the choir.
---
Daybook is contributed by Steve King, who teaches in the English Department of Memorial University in St. John's, Newfoundland. His literary daybook began as a radio series syndicated nationally in Canada. He can be found online at todayinliterature.com.