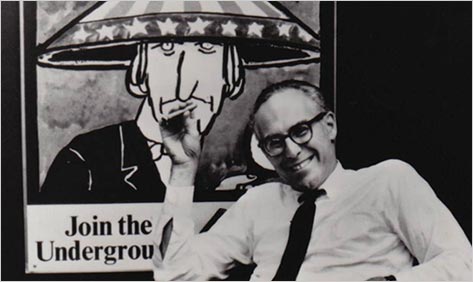 It is still something of a shock to realize that it was only a few decades ago that a publisher could face prosecution for print runs of books by D. H. Lawrence and Henry Miller. Contrary to the blue-state view, it was in places like Boston, Brooklyn, and Philadelphia that DAs and local law enforcement lined up to throw the book at anyone who dared to cross the "obscenity" line. Yet in case after case, and with tremendous financial and civic courage, Grove Press pushed the cops and the courts to win freedom for writers to write what they wanted to write and for publishers to publish what readers were able to read. The gap between now and then makes it all the more difficult to appreciate just what Barney Rosset did in his time with Grove, the publishing house he purchased for $3,000 in 1951, when he was a restive 29-year-old trying to figure out what to do with his life. With Rosset's death last week at age 89, it makes that appreciation all the more necessary.
The history that Rosset's Grove Press and its literary-magazine offshoot Evergreen made is a testament to the power that publishing could exert within the culture at large — a kind of muscle that we may never see the likes of again. That fact speaks less to the relative decline in prestige of print than to the fact that Grove and Rosset, like any great publisher, were perfectly attuned products of their moment. And what a moment it was, an upsweep in what could be said and published and thought like no other that America has ever experienced. Plenty of publishing houses were equally happy to get a piece of the Zeitgeist and snag its eager, youthful consumers. What separated Rosset though from the others during Grove and Evergreen's great run in the late '50s and into the '60s was that he got there first — and furiously — with an unfailing trust in his own instincts and the audacity to build a publishing program around it.
It started famously with Waiting for Godot, which Rosset published in 1954 and saw through initial sales numbers of 200 copies. Beckett, as DeKooning famously said about Jackson Pollock, broke the ice for a good bit of what gave Grove its noticeably avant-garde tang — Genet, Ionesco, Robbe-Grillet. It's important to remember what a model Grove was for the idea of a truly international literary culture — an example one now can only yearn to see rejuvenated when it comes to the dispiriting state of American publishers' commitment to literature in translation today. Offering a vision of the American bookstore as a gateway to the news of the world, Grove managed to combine this Francophonic enthusiasm with an eye and ear for the literature just beginning to flower in the States. In retrospect, it was a far-seeing feat of imagination to couple European absurdist literature and the resolutely unaloof languages of Burroughs, Hubert Selby, Kerouac, and others — not to mention the "erotica" that brought in more business to Grove. It was even more visionary to publish alongside them Malcolm X, whose autobiography had been dropped by Doubleday, and Che Guevara.
But in addition to having a sixth sense about the possibilities in publishing the overlooked and the underrepresented, Rosset was an eager promoter who not only knew how to sell tickets to the show but took unabashed glee in running the tills. "We did almost a yearly bombshell," Richard Seaver, whom he hired in 1959, told Newsweek in an excellent 2008 profile of Rosset. "Barney loved — I won't say he loved the litigation, but he loved everything that went with it."
By the time Seaver left, in 1971, the tight Grove formula was starting slowly to come loose. Rosset bitterly resisted a unionization drive in 1970 and the blockade of his offices by women who were beginning to look differently on the whole idea of a sexual revolution. After expanding his staff in the wake of his successful launch of the Swedish soft-core flick I Am Curious (Yellow) — his foray into producing film, a passion that stuck with him since he wrote and produced the anti-racism documentary Strange Justice in his early twenties — he disastrously overspent on new offices and, as they like to say now, growing the brand. (As the '70s went on, Grove did a steady but hardly spectacular business on the strength of its backlist. Rosset sold the company in 1985 and was fired a year later.) You can hardly fault him in hindsight for his business optimism, though. He'd successfully figured out that with a combination of conviction and a knack for marketing, Grove could be not just a brand but an identity that the converging countercultural currents would embrace. Rosset helped change the course of more than just publishing in the process. As if that weren't enough, no one seems to have had more fun in doing so.