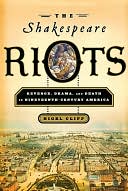 May 10:On this day in 1849, the Astor Place Riot occurred, leaving 23 killed, over 100injured, 10 sent to prison or fined, and New York's Astor Place Opera House inruins. In its simplest terms, the riot was a feud which got out of hand, thosein support of the touring English tragedian William Macready battling those whopreferred the American actor Edwin Forrest for artistic or market sharereasons. But, as told in the narrative style of The Shakespeare Riots, Nigel Cliff's recent study of the origins ofAmerican theater, the Astor Riot tells a much larger tale of patriotism andpolitics, from a time when the theater held a key place in New World culturallife.
Among those pulling thecultural-political strings attached to the Astor Riot was Isaiah Rynders, theTammany Hall strongman, and one of his lieutenants, Ned Buntline. At this pointin his eventful life, Buntline was a journalist, and decades away from hisBuffalo Bill and dime novel fame. But he was always up for a fight or a fastbuck, and Cliff sees his fingerprints all over the following poster, splashedaround town in an attempt to mobilize troops for the Astor Place showdown:
AMERICANS!! AROUSE! THEGREAT CRISIS HAS COME!! Decide now whether English ARISTOCRATS!!! AND FOREIGNRULE! shall triumph in this AMERICA'S METROPOLIS, or whether her own SONS,whose fathers once compelled the base-born miscreants to succumb shall meanlylick the hand that strikes, and allow themselves to be deprived of the libertyof opinion so dear to every true American heart. AMERICANS!! come out! And dareto owe yourselves sons of the iron hearts of '76!!
Cliff says that the Astorwas the ideal flash point of the larger turf war because it was situated at theedge of the Bowery, where Buntline hoped to find or hire those itching for afight or a fun night out:
The Bowery was theentertainment as well as the commercial artery of the down-at-the heels EastSide, and flames smelling of turpentine illuminated glass signs advertisingcockpits, rat-baiting arenas, boxing rings, dime museums, bowling alleys, andgambling dens, together with scores of taverns and beer gardens, some of whichserved firewater through a rubber tube straight from the barrel at three centsa gulp. Above all, though, the Bowery was famed as the favorite stomping groundof the b'hoys and their g'hals.
---
Daybook is contributed by Steve King, who teaches in the English Department of Memorial University in St. John's, Newfoundland. His literary daybook began as a radio series syndicated nationally in Canada. He can be found online at todayinliterature.com.