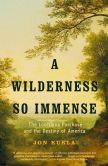 The Louisiana Purchase was completed on this day in 1803, with France getting $15 million for all its North American holdings, and the U.S. doubling its size for less than 3 cents per acre. Napoleon hoped the exchange would help bankroll his imperial dreams in the Old World, and Thomas Jefferson had his own New World imperatives: "Our confederacy must be viewed as the nest from which all America, North & South is to be peopled," he wrote in 1786. "…The navigation of the Mississippi we must have." In A Wilderness So Immense: The Louisiana Purchase and the Destiny of America, Jon Kukla says that if the key players in the deal which would shape America proceeded only on vision, it was because they had little else to guide them:
In 1803 the destiny of North America was formally decided by men who never set foot in the Mississippi Valley, who never walked the narrow streets of the French Quarter in New Orleans, and who never laid eyes on the rivers that drain an expanse of field and forest slightly larger than Western Europe. Thomas Jefferson never traveled west of the Shenandoah Valley, Robert R. Livingston never got beyond the Catskills, James Monroe [Livingston and Monroe were the U.S. negotiators for the deal] never made it west of Nashville, Tennessee. Napoleon Bonaparte never visited America, and his ministers knew only the Atlantic Coast.… The key participants in the diplomatic story of the Louisiana Purchase were statesmen in Europe and America who knew the Ohio and Mississippi Rivers only as lines on a map, and the Missouri River only as a legend at third hand. The territory of Louisiana itself was a wilderness so immense that its boundaries remained indefinite for years.
---
Daybook is contributed by Steve King, who teaches in the English Department of Memorial University in St. John's, Newfoundland. His literary daybook began as a radio series syndicated nationally in Canada. He can be found online at todayinliterature.com.