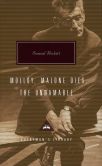 Samuel Beckett died on this day in 1989. The disciples, hangers-on, and "Sammists" sought Beckett out in even greater numbers during his last years, hopeful of a marketable comment on the famously obscure plays. Beckett was rarely forthcoming, but the biographies abound with demonstrations that, however demanding and guarded about his writing, he was an approachable and convivial man. The excerpt below is from a reminiscence written by the Irish poet John Montague, who knew Beckett in Paris for decades:



I watched once as a crafty journalist, seeking his confidence, lightly mentioned that he had played rugby with Ollie Campbell. Beckett's eyes lit up, and all the weary embarrassment vanished. "Do you really know Campbell?" he said excitedly. "What's he like?"

My cunning confrere confided that no more modest humble man ever pulled on rugby boot. "He's a genius!" cried Beckett. "But you're not supposed to have a television," I reminded Sam. "You're supposed to be against all that." "Only for the games," was his furtive apology, "and only when the Irish play."

But the journalist had the hook in, and soon Sam was discussing with him a rugby team of Irish writers. Spoilers like O'Flaherty were easy to place, but the half-blind Joyce was a problem, and Beckett would not relegate his old master to the bench. "Very crafty, very nippy, try him at fly-half. He might surprise you when the light is fading."
The Irish actor Barry McGovern has performed many of Beckett's plays and toured his one-man Beckett show, I'll Go On, internationally — this titled from the ending of Beckett's novel The Unnameable: "You must go on; I can't go on; I'll go on." McGovern visited Beckett in his Paris nursing home several weeks before his death:
…He was weak but in good form. We laughed frequently. I said I'd love to do Endgame again as it was my favourite of his plays. "Mine too," he said. I remarked on the title of a little book of his which he gave us, Le monde et le pantalon. This refers to the story told by Nagg in Endgame about the Englishman who gets exasperated because his tailor cannot make him a pair of trousers in three months when it took God only six days to make the world. Beckett then acted out wondrously the lines: "But my dear sir, my dear sir, look [disdainful gesture, disgustedly] — at the world — and look — [loving gesture, proudly] at my trousers!" He would have been a perfect Nagg. When we left him he embraced us for the last time. I can still feel the stubble.

On the few occasions I've been back to Paris since his death, I've always paid a visit to his simple grave in the Montparnasse cemetery. "What colour do you want your gravestone, Sam?" "Any colour so long as it's grey." An apocryphal story, perhaps, but I believe it.
---
Daybook is contributed by Steve King, who teaches in the English Department of Memorial University in St. John's, Newfoundland. His literary daybook began as a radio series syndicated nationally in Canada. He can be found online at todayinliterature.com.