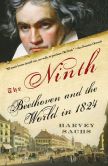 Beethoven's Ninth Symphony premiered in Vienna on this day in 1824. Beethoven was fifty-three, and at the height of his popularity in his adopted city; when word got out that, for financial reasons, he was considering premiering his symphony in either London or Berlin, a petition signed by many of Vienna's most important fans and patrons begged Beethoven to "not allow these your youngest children to be introduced as foreigners in the city of their birth." The superlatives used by one of the first night reviewers seem to echo the city's pride: "Art and Truth celebrate here their most glowing triumph." Another reviewer described for those who had missed it the "high musical feast":
Imagine the highly inspired composer, the musical Shakespeare, to whom all means of his arts readily are available at the slightest wave of his hand, how, in the innermost belief in the holy work of redemption, he sings God's praise and the hope of humanity.
Totally deaf at this point, the composer was on stage only as secondary conductor, and for the first time in twelve years. One musician recalled Beethoven's furious movements, "as if he wanted to play all the instruments himself and sing for the whole chorus." Others remember him several measures behind, and still going strong at the end; he had to be turned around to at least see the audience's cheers, many thinking to add a waved handkerchief or raised hat to the applause of their five standing ovations.
Friedrich Schiller's poem "To Joy" had been immensely popular since its publication in 1786. Inspired by its triumphant Enlightenment message of moral beauty and brotherhood, dozens of composers had set it to music before Beethoven (not so many tried after him). Below, a few of the famous lines:
Be embraced, you millions!

This kiss for the whole world!

Brothers, beyond the star-canopy

Must a loving Father dwell.

Do you bow down, you millions?

Do you sense the Creator, world?

Seek Him beyond the star-canopy!

Beyond the stars must He dwell….
---
Daybook is contributed by Steve King, who teaches in the English Department of Memorial University in St. John's, Newfoundland. His literary daybook began as a radio series syndicated nationally in Canada. He can be found online at todayinliterature.com.