Reading the era that gave us the Art of the Sell.
---
By Philip Roth
If you were wondering why Don Draper was seen reading Philip Roth's 1969 debut novel in last week's episode, consider the subject matter: the confessions of a would-be do-gooder to his psychoanalyst, detailing in the many sexual compulsions and illicit affairs which substitute for the authentic experience of his materially abundant life. Sound like any advertising director anti-heroes you know?
---
By David Ogilvy
David Ogilvy is often called the Father of Advertising: his 1983 book makes it clear why. This bracingly honest and engaging look at the way advertising agencies (particularly the author's own powerhouse outfit, Ogilvy & Mather) go about the business of creating indelible advertisements also serves up a brief and lively history of the industry as well. He's been cited by Mad Men creator Matthew Weiner as a major influence on the show, particularly the character of Roger Sterling and his (far less successful) ad man memoir, Sterling's Gold.
---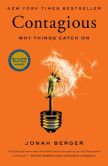 Contagious: Why Things Catch On
By Jonah Berger
For a modern update on how today's marketing masterminds – and the Pete Campbells of tomorrow – are selling you the goods and services you've come to know and love, check out Jonah Berger's revealing study of consumer trends, and the capacity to create them through clever branding. Berger's introduction – profiling how Philadelphia hotel owner Howard Wein made a hundred-dollar cheesesteak into a must-have for the city's upper crust – is a textbook lesson in the power of suggestion that Bert Cooper himself would stand to applaud.
---
By Richard Yates
Frank and April Wheeler, the successful but profoundly unhappy couple at the core of Richard Yates's visceral 1961 novel, could be called the proto-Don and Betty Draper. April's failures as an actress-turned bored housewife echo former model Betty's ennui, and Frank's philandering and workday angst ring true to the smoldering anger beneath Don's cool veneer. This tragedy of the suburbs is not for the faint of heart, but earns its somber tone with pitch-perfect capture of post-war America's voices.
---
By Mary Wells Lawrence
Lawrence is the woman who told America to flick their Bics and made Alka-Seltzer musically synonymous with "relief." The sassy, conversational, tell-all memoir from one of the few women of her generation to rise to the top of a male-dominated profession chronicles her rise to power in the changing world of advertising in the 1960s (and how she helped change it). She is a true life Peggy Draper, capturing what it was to so often be at once the only woman and smartest advertising mind in the room.