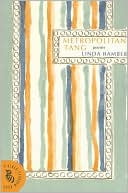 A Poem by Linda Bamber
Today's selection from Black Sparrow Books and David R. Godine, Publisher, is from Linda Bamber's Metropolitan Tang, published in 2008.
Beginning
Some men
you give them a little wine, a little sex
a little critique of their most
basic personality issues and also
of the pornographically photographed sailboat
they currently think would vault them,
if they owned it,
to a whole new level of happiness
(which it wouldn't, not with that lopsided
helm)
and they're done. They bury their head in your midriff
crying,
"I know you! I know what a pain in the neck you are!"
Is there anything not to like about men like that?
Exactly what?
Tell me, because I don't see it.
Linda Bamber, "Beginning" from Metropolitan Tang. Copyright © (2008) by Linda Bamber.
Reprinted with the permission of Black Sparrow Books and David R. Godine, Publisher, Boston. www.blacksparrowbooks.com