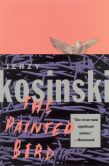 On this day in 1933, Jerzy Kosinski was born as Jerzy Lewinkopf, in Lodz, Poland. Kosinski's father changed the family name at the beginning of World War II in an effort to escape persecution as Jews. As described later in Kosinski's international bestseller, The Painted Bird (1965), this plan went horribly wrong. When six-year-old Jerzy became separated from his parents he was given up for dead; he spent the next three years roaming the Polish countryside, witnessing and suffering such atrocities that he was struck dumb, recovering his speech only years later after being reclaimed by his parents from an orphanage and enrolled in a school for the handicapped, where he was jolted back to speech by a skiing accident.
Or so the story went, until a 1982 Village Voice article challenged it and just about everything else about Kosinski. The list of charges is lengthy, and some remain only half-substantiated (or muddied by anecdotes about Kosinski's academic failings, sexual eccentricities, and talk-show personality), but a 1996 biography by James Park Sloan maintains that the main accusations are indeed true. These include the revelation that The Painted Bird, which Kosinski either promoted as an autobiographical novel or allowed to be so interpreted, was the furthest thing from personal experience, as the Kosinskis remained together throughout the war, safe and even comfortable. Sloan also says that Kosinski hired teams of editors to virtually ghostwrite his books — Being There, for example, alleged to have been not only polished by hirelings but Polish in origin, the plot stolen from a book published in the '30s. When these charges first appeared, some close to Kosinski refuted them but others came forth with corroborations. Kosinski's literary reputation soon went into a tailspin, and when he committed suicide in 1991, some cited the allegations as the cause.
Some critics say that, whether true of Kosinski's war or not, The Painted Bird is still a powerful and representative book, and a deserving parable. On its own, this is an important day in Holocaust history — Auschwitz received its first victims, a transport of 728 Poles, on June 14, 1940.
---
Daybook is contributed by Steve King, who teaches in the English Department of Memorial University in St. John's, Newfoundland. His literary daybook began as a radio series syndicated nationally in Canada. He can be found online at todayinliterature.com.