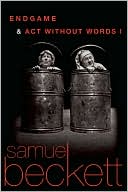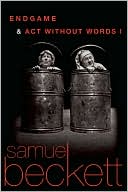 Samuel Beckett's Endgame was first performed on this day in 1957, a French-language production at London's Royal Court Theatre. Waiting for Godot had premiered in Paris in 1953 and become an international sensation, but Beckett could find no one in France willing to risk their theater on a new play that featured one character who could not stand, one who could not sit, and two others unable to emerge from garbage cans.

Beckett had been so horrified at what most producers, directors, and actors had done to Godot— "It's ahl wrahng! He's doing it ahl wrahng!" he'd whispered throughout the play's London premiere — that he wrote precise stage and acting directions into Endgame:
HAMM What's happening?
CLOV Something is taking its course. (Pause)
HAMM Clov!
CLOV (Impatiently) What is it?
HAMM We're not beginning to . . . to . . . mean something?
CLOV Mean something! You and I, mean something! (Brief laugh)
Ah, that's a good one!
But Beckett was never hopeful about communication — "[T]here is nothing to express, nothing with which to express, nothing from which to express, no power to express, no desire to express, together with the obligation to express" — and after hiding from reporters and acquaintances in his London hotel throughout the rehearsal period, he flew home before the Endgame opening. He returned eighteen months later for the English-language premiere, this time in a double bill with Krapp's Last Tape. Beckett's personal agony continued, say the biographers, and judging by Kenneth Tynan's parody-review entitled "Slamm's Last Knock," the critical reception was worse:
Slamm Is that all the review he's getting?
Seck That's all the play he's written.
Slamm But a genius. Could you do as much?
Seck Not as much. But as little.
Endgame is now regarded as one of the essential texts of modern drama and reportedly Beckett's favorite among his plays — or more precisely and more Beckettian, "the one I dislike least."
---
Daybook is contributed by Steve King, who teaches in the English Department of Memorial University in St. John's, Newfoundland. His literary daybook began as a radio series syndicated nationally in Canada. He can be found online at todayinliterature.com.