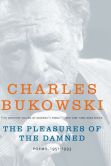 On this day in 1994 Charles Bukowski died. Bukowski published over fifty books of poetry and prose in a career spanning a half-century, becoming the Grand Old Man of the fringe presses. He came by his skid-row, blue-collar themes honestly, having worked years of dead-end jobs, for bosses "with bad breath and big feet, men / who look like frogs, hyenas, men who walk / as if melody had never been invented." After work he would go home to "the inevitable landlady, / execrating and final, / sending me to hell, / waving her fat, sweaty arms / and screaming / screaming for rent / because the world had failed us / both." Or go to the bar, bringing back his only companionship: "I uncap the new bottle / from the bag and she sits in the corner / smoking and coughing / like an old Aunt from New Jersey."
But by the mid-1970s there were appearances with Allen Ginsberg and Lawrence Ferlinghetti, interviews in Rolling Stone, and sold-out readings in Europe, to which Bukowski now arrived with four bottles of good French wine rather than the two six-packs. And by the time of Barfly, the 1987 movie based on his life, Bukowski had traded his battered '67 VW Beetle — the one that he and bed-sit neighbors Brad and Tina (Brad the manager of a pornographic bookstore on Hollywood Boulevard, Tina a go-go dancer) had so often used for their drink-and-drives, the one with a hole in its windshield from the time Cupcakes (Buk's girlfriend and Miss Pussycat Theatres 1973) put her heel through it — for a new BMW, sun-roof, cash.
There was a marriage and a move to the suburbs, too, the wife bringing along her New Age remedies for Bukowski's growing health problems. He took the cures with a smile — "…sitting naked behind the house, / 8 a.m., spreading sesame seed oil / over my body, jesus, have I come / to this?" — and his passing with a shrug:
. . . and to think, after I'm gone,

there will be more days for others, other days,

other nights.

dogs walking, trees shaking in

the wind.

I won't be leaving much.

something to read, maybe.

a wild onion in the gutted

road.

Paris in the dark.
---
Daybook is contributed by Steve King, who teaches in the English Department of Memorial University in St. John's, Newfoundland. His literary daybook began as a radio series syndicated nationally in Canada. He can be found online at todayinliterature.com.