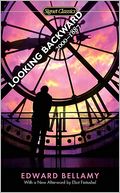 Edward Bellamy's Looking Backward: 2000-1887 was published on this day in 1888. The utopian fantasy became the bestselling book of the next decade, and the third-bestselling book of the nineteenth century (behind Uncle Tom's Cabin and Ben-Hur). There were also significant political repercussions: over 150 Bellamy Clubs (soon called Nationalist Clubs) were formed across America to promote the socialist reforms described in the novel, and by titling his 1933 bestseller Looking Forward, Franklin D. Roosevelt linked his New Deal policies to Looking Backward principles. Bellamy's novel was also an inspiration for several utopian experiments in communal living — the Ruskin Colonies in the American South, for example, these named after John Ruskin.

The hero of Looking Backward goes to sleep in 1887 and awakes in 2000 to a nation that has itself woken up. In "a triumph of common sense," people have come to understand the horrors of Gilded Age industrialism and "The Suicide of the Profit System" (a chapter heading in Bellamy's sequel novel, Equality). In new-millennium Boston, the citizens have transformed their city into a socialist paradise where "no man any more has any care for the morrow, either for himself or his children, for the nation guarantees the nurture, education, and comfortable maintenance of every citizen from the cradle to the grave."

At the end of the story, the hero perforce awakes; after a dispiriting walk through the "Golgotha" of real Boston, he tries to shake his fellow citizens, or the privileged among them, from their sleepwalk:
Do you not know that close to your doors a great multitude of men and women, flesh of your flesh, live lives that are one agony from birth to death? Listen! their dwellings are so near that if you hush your laughter you will hear their grievous voices, the piteous crying of the little ones that suckle poverty, the hoarse curses of men sodden in misery turned half-way back to brutes, the chaffering of an army of women selling themselves for bread. With what have you stopped your ears that you do not hear these doleful sounds?
---

Daybook is contributed by Steve King, who teaches in the English Department of Memorial University in St. John's, Newfoundland. His literary daybook began as a radio series syndicated nationally in Canada. He can be found online at todayinliterature.com.