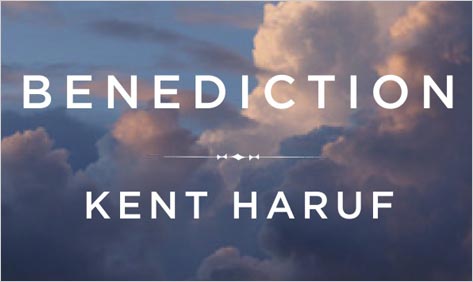 Dip into Kent Haruf's new novel, Benediction, then look at a photo of eastern Colorado's high plains, and you think, "Of course." Of course, from this landscape of heat and light and ice and vistas comes this plain and powerful book. All straight lines and spare prose, Benediction takes place during a single summer, an arc of time in which nothing much happens but everything changes.
We enter the tiny town of Holt, Colorado (or re-enter, if you've read any of Haruf's previous four novels) just as Dad Lewis, the elderly owner of the local hardware store, learns he's dying of cancer. A few months, the doctor figures. Nothing anyone can do. So Dad and his wife, Mary, head home, drive "out from Denver away from the mountains, back onto the high plains: sagebrush and soapweed and blue grama and buffalo grass in the pastures, wheat and corn in the planted fields."
Bit by bit, Dad's family and friends gather. Dad's adult daughter, Lorraine, arrives from the city. Her presence, while welcome, drives home the decades-long absence of her brother, Frank, who left home after high school and never came back. Next door, Berta May has just taken in her orphaned eight-year-old granddaughter, Alice. Across town, a new preacher, sent to Holt from a city parish for a fresh start, is about to start making the same old mistakes.
There's setup enough for a soap opera's worth of plots, but that's not Haruf's way. Instead we're offered life as a patchwork of trial and error, mistakes and serendipity. And, for a lucky few, the chance to make amends. A shopping trip to buy Alice some new summer clothes packs as much of a punch as Mary's drive to Denver in a last attempt to find Frank. When, on a scorching summer afternoon, the women move from the heat of the house to a backyard picnic, it's a series of quiet scenes in which a universe unfolds.
They brought out glasses and silverware and salt and pepper shakers and a dish of pickle relish and pink cloth napkins and iced tea in a glass pitcher…. Over them lay the shade of the tree, dappling and swaying when there was a breeze at this noon hour.
Later, goaded by the heat, the women go swimming in a stock tank. The oldest skinny-dips for the first time in her life. Alice, the youngest, learns how to float, "half-submerged, her blue eyes open to the blue sky."
There's a mythic quality to this landscape, and in Benediction, as in Haruf's previous four novels — The Tie That Binds, Where You Once Belonged, Plainsong, and Eventide— there's poetry. It's the restraint of the novelist's storytelling that provides its power, and its grace.