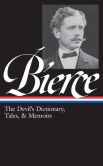 Ambrose Bierce was last heard from on this day in 1913, in a letter sent from Chihuahua, Mexico, that concludes, "As to me, I leave here tomorrow for an unknown destination." Those who would unravel the mystery of Bierce's disappearance and fate have been at it for a century now, coming up with more theories — suicide in the Grand Canyon, death by firing squad in the Mexican town of Sierra Mojada — than facts:
Bierce may have felt written, talked and drunken out. By the autumn of 1913, he was talking about going to Mexico to witness the revolution there, as if it might be a form of euthanasia. (To fight for Pancho Villas's rebels? To be killed as a bystander by a stray shot?) Yet he also put it to people simply that war retained its fascination for him. We know that in October he toured his old Civil War battlegrounds, including Chickamauga, and that, arriving in Texas, he sent letters thence.… What is certain is that none of the numerous US journalists covering Villas's insurgence spotted that doyen of their craft, and that research into Bierce's disappearance launched by the US Government yielded no results whatsoever.
The above is excerpted from Angus Calder's Introduction to an edition of Bierce's The Devil's Dictionary. Calder takes his "euthanasia" reference from a Bierce letter of October 1, 1913, sent to his cousin, Lora:
…Good-bye — if you hear of my being stood up against a Mexican stone wall and shot to rags please know that I think that a pretty good way to depart this life. It beats old age, disease, or falling down the cellar stairs. To be a Gringo in Mexico — ah, that is euthanasia.
The Dictionary confirms that Bierce had little interest in growing old ("Discredited by lapse of time and offensive to the popular taste") and suggests that he did not head to Mexico out of passion for its revolution:
In politics, an abrupt change in the form of misgovernment. Specifically, in American history, the substitution of the rule of an Administration for that of a Ministry, whereby the welfare and happiness of the people were advanced a full half-inch. Revolutions are usually accompanied by a considerable effusion of blood, but are accounted worth it — this appraisment being made by beneficiaries whose blood had not the mischance to be shed.
---
Daybook is contributed by Steve King, who teaches in the English Department of Memorial University in St. John's, Newfoundland. His literary daybook began as a radio series syndicated nationally in Canada. He can be found online at todayinliterature.com.