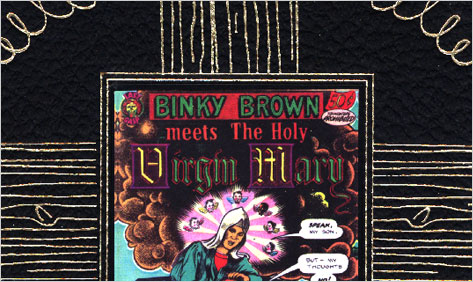 Binky Brown Meets the Holy Virgin Mary had a wholly maculate conception. As Justin Green notes in a long, fascinating afterword appended to this edition of his most enduring work, it was created as "a disposable comic book" — a vulgar, black-and-white, 50-cent thing printed on newsprint and distributed through head shops in 1972. It's clung to life ever since, reprinted repeatedly and passed hand-to-hand among cartoonists and readers. The earnest, homely Binky Brown is transparently a stand-in for the artist: a Catholic-school kid whose religious and sexual hangups redouble throughout his youth until he develops what we would now recognize as full-blown obsessive-compulsive disorder. Convinced that rays of sin are emanating from his genitals, hands, and feet, he concocts elaborate rituals to avoid having the rays intersect with any representation of the Virgin Mary. Eventually, he frees himself from his compulsions with the aid of an acid trip and a dozen smashable ceramic Madonnas.
This new hardcover version is reproduced from Green's original pen-and-ink artwork, but printed in color, to show off the details that weren't originally intended to be seen on the page (blue-line sketches, patches of white-out, smudges of glue). With its oversized format, gold-illuminated cover with a tipped-in color plate, and purple satin ribbon, it's presented like a sacred text whose every detail demands to be preserved as accurately as possible.
For the generation of cartoonists that followed Green, that's exactly what it is: Binky Brown represents the genesis of the confessional, autobiographical comic book. Green dismisses that innovation as "a low fruit ripe for the plucking," preferring to be seen as an ancestor of literature about OCD, but it's true. There are echoes of Binky Brown in Alison Bechdel's Fun Home, in David B.'s Epileptic, and particularly in Art Spiegelman's Maus; Spiegelman suggested that McSweeney's publish this facsimile edition and wrote the introduction. And Green's central insight — that turning his experience into comics would allow him to explain the world not just as he understood it but as he saw it — was a doozy.
It's worth mentioning that Binky's agonizing voyage of self-discovery is also very funny — Green was working in comics' tradition of broad, joshing slapstick, and he cites Philip Roth's Portnoy's Complaint as a source of inspiration, along with the scabrous underground comix that the likes of S. Clay Wilson and Robert Crumb had already been publishing for a few years by the time he started drawing Binky Brown. His artwork here is often crabbed and unpretty, despite its meticulous compositions (the original front and back covers ingeniously allude to Tarot cards); the way he renders his characters and their settings perpetually suggests something unsavory is just about to erupt from his ink lines' wobbling surfaces.
That's also his smartest joke. Green's "neurosis," as he understood it at the time, turned the entire world into a struggle between sexual impurity and religious cleanliness that couldn't really be resolved until he expressed it, with unflinching candor, in his art, bringing it out into the open so he could mock it. The unclean thing that his compulsions struggled to contain is this story itself — an artistic breakthrough that has gradually become a kind of holy relic.