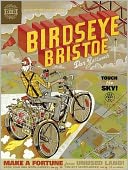 Dan Zettwoch's debut graphic novel — arriving after years of many fine uncollected strips across a host of venues, online and print — sings with a sweet simplicity enhanced by a concealed formalist complexity. Birdseye Bristoe, a spare, episodic tale concerning a few momentous weeks in the lives of the citizens of a small, eccentric "Midsouth" town, is Norman Rockwell by way of Twin Peaks. Although not as ambitious or dense as David Mazzuchelli's Asterios Polyp, it shares some of that book's sly blending of macrocosmic and microcosmic concerns, where big issues arise emergently out of the quotidian.
Zettwoch's narrative conceit — revealed a few pages into the story, so no big spoiler — is that we are viewing the pages drawn and scripted by a talented young adolescent girl named Krystal. Krystal is spending her summer vacation visiting her great-Uncle Birdseye Bristoe (his assumed name matches the name of the little town they all occupy), along with her older cousin Clint. Armed with pad, colored pencils, a bottle of sparingly used correction fluid, and a cheap disposable ballpoint pen, she sets out to chronicle whatever catches her sharp-eyed, excitable interests. Thus, her pages alternate amongst fully enacted dramatic incidents (such as a town meeting and the exploration of a giant ruined billboard), maps, schematic diagrams, character portraits, newspaper pages, her cousin Clint's dutiful summer reading assignment reports, and miscellaneous other media.
Out of this entrancing juvenile-penned hodgepodge emerges the main plot, as such: in this highly advanced and techno-savvy year of 1998, Birdseye Bristoe (the town) is about to receive its first cellphone tower. Not just any old tower, it will be the world's tallest structure. And its massive anchors plunk down right on some spare land at the nightcrawler farm of Birdseye Bristoe (the man). Happy to lease the land, BB and his kin watch the tower steadily climb to the heavens, while also going about their daily business. This includes visits to Moby Dick's Adult Superstore (no kids allowed!) and Ruck's Big Rig Wash.
Such a synopsis — you could almost misleadingly render a similar boildown of the milieu of The Simpsons, or of To Kill a Mockingbird — fails to convey the lived-in amiability and zestiness of the tale. First, the characters all pop off the page in three-dimensional glory. Uncle Birdseye is one of the great American eccentrics who make this country soar, the kind of fellow who might build a lawnchair-and-balloons aircraft, or take his tractor mower on an interstate odyssey. Krystal is both naïve and knowing, the artist just finding her voice and métier. As for Cousin Clint, beneath his hormonal preoccupations with heavy metal music and porn lies the cynical, perceptive intelligence that might someday fuel, oh, the blog of a political insider. All the secondary characters have their own vibrancy too.
Zettwoch's fluid, easy-to-assimilate art, as channeled through Krystal's pen, sometimes recalls that of Gary Panter in Panter's more naturalistic moments. It also derives a bit from the work of Kim Deitch. It's kind of the ur-style that you or I might clumsily summon up if asked to produce a comic-book, but of course with much more inbuilt structural "tensegrity," to employ one of Clint's favorite words from Buckminster Fuller. Looks easy, but ain't.
A further mystery to the seemingly open-faced plot lies in the introductory pages (whose action precedes Krystal's arrival; the bulk of the narrative is actually a flashback). What are we to make of the panels depicting the fall and ruin of the grand, Babel-like Tower? A nightmare on the part of Uncle Birdseye, or the actual consequence of corporate hubris and cost-cutting? Zettwoch deliberately does not resolve this enigma.
This accomplished graphic novel is like a series of funky postcards or camp letters from Hooterville or Fargo, Cicely, Alaska or Egypt, Maine: part of the wonderful eternal tradition of Greil Marcus's "old, weird America."
---

Paul Di Filippo's column The Speculator appears monthly in the Barnes & Noble Review. He is the author of several acclaimed novels and story collections, including Fractal Paisleys, Little Doors, Neutrino Drag, and Fuzzy Dice.