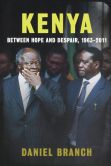 Kenya gained its independence from Britain fifty years ago today. Those who assembled in Nairobi's Uhuru (Freedom) Park to celebrate the moment saw, says historian Daniel Branch in Kenya (2011), "one of the precious few moments of authentic unity in this complex and diverse country":
As the final bars of the British national anthem echoed around the arena, the Union flag was lowered. A minute later, accompanied by the new Kenyan anthem and an outpouring of joy by the quarter of a million onlookers, the flag of the infant nation-state was raised. With its black third symbolizing the people of Kenya; its red third the blood lost in the struggle for freedom; and its green third the country's abundant agricultural resources; with the white trim for unity and peace, and the shield portraying the country's determination to defend its hard-won freedom, the new national flag was laden with meaning for local and foreign observers alike.
Branch's Kenya is subtitled Between Hope and Despair, and his analysis bleakly concludes that contemporary events there too often demonstrate "the fragility of independence and the weakness of the nation-state."
---
Daybook is contributed by Steve King, who teaches in the English Department of Memorial University in St. John's, Newfoundland. His literary daybook began as a radio series syndicated nationally in Canada. He can be found online at todayinliterature.com.