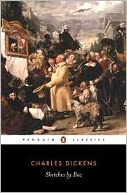 Charles Dickens was born 200 years ago today, and his Sketches by Boz was published on this day in 1836. This first book is a collection of magazine articles that had appeared over the previous few years, these now assembled into two categories, one being more documentary and the other more fictional. Taken together, they offer an early showcase of the social concerns and comedic talents that would make Dickens famous. The scholars say that some pieces can also be read biographically — for instance, "Shabby-Genteel People," "The Pawn-broker's Shop," and "A Visit to Newgate," which recall the hard times of both Mr. Micawber and Dickens's father.

The following passage from "Criminal Courts" might read as background for Oliver Twist,which began serialization a year after Sketches was published. At this moment in the daily courthouse drama, a young pickpocket has sworn that he is innocent and upright:
Court: Have you any witnesses to speak to your character, boy?

Boy: Yes, my Lord; fifteen gen'lm'n is a vaten outside, and vos a vaten all day yesterday, vich they told me the night afore my trial vos a comin' on.

Court: Inquire for these witnesses.

Here, a stout beadle runs out, and vociferates for the witnesses at the very top of his voice; for you hear his cry grow fainter and fainter as he descends the steps into the court-yard below. After an absence of five minutes, he returns, very warm and hoarse, and informs the Court of what it knew perfectly well before — namely, that there are no such witnesses in attendance. Hereupon, the boy sets up a most awful howling…. The jury at once find him 'guilty,' and his endeavours to squeeze out a tear or two are redoubled. The governor of the gaol then states, in reply to an inquiry from the bench, that the prisoner has been under his care twice before. This the urchin resolutely denies in some such terms as — 'S'elp me, gen'lm'n, I never vos in trouble afore — indeed, my Lord, I never vos. It's all a howen to my having a twin brother, vich has wrongfully got into trouble, and vich is so exactly like me, that no vun ever knows the difference atween us.' This representation, like the defence, fails in producing the desired effect, and the boy is sentenced, perhaps, to seven years' transportation.
---
Daybook is contributed by Steve King, who teaches in the English Department of Memorial University in St. John's, Newfoundland. His literary daybook began as a radio series syndicated nationally in Canada. He can be found online at todayinliterature.com.