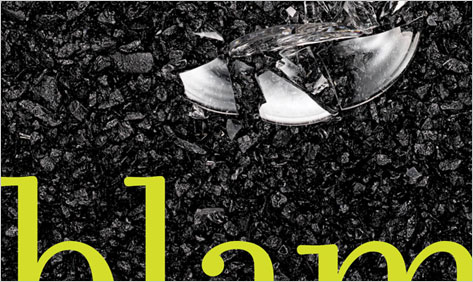 Where would literature be without guilt? Away would go just about everything worth reading: the scarlet letters and the telltale hearts, all great Neptune's ocean and the streetcar named Desire, the ruined marriages, the traumatized children, the deathbed confessions, much of Dickens and Kafka and Conrad and, for that matter, all mysteries and crime fiction. Gone too would be the wonderfully expansive novels of Michelle Huneven, each populated with yearning Californians trying to make amends to others and to themselves.

Interestingly, Huneven has titled her new novel Blame rather than "Guilt," shifting the arena of culpability from the internal to the external. After meeting the book's protagonist, we soon discover why: in the spring of 1981, Patsy MacLemoore, a 29-year-old history professor with a brand-new Ph.D., wakes up in jail after a drunken blackout to learn she's been arrested for driving her Mercedes into two Jehovah's Witnesses — a mother and daughter — in the driveway of her Altadena bungalow. Both victims are dead, and Patsy has zero memory of anything that happened that night.

After such knowledge, what forgiveness? The accusations against Patsy require her to make a leap of faith and also of imagination, two qualities that Huneven will show, through the course of the novel, to have much in common. Sentenced to four years in the California state penitentiary for criminal negligence, and forever unable to remember anything about her involvement in the deaths, Patsy throws herself onto a path toward redemption as vigorously as she had maintained the schedule of a high-achieving alcoholic.

"She'd been valedictorian and ends Party Hardiest in high school," Huneven says of Patsy, "the first in her family to matriculate into a University of California grad school and a California correctional institution. She, at least, had range." Twelve years of Catholic school and her training as a historian had made Patsy resistant to traditional notions of sin or salvation. But during Alcoholics Anonymous meetings in prison, recounting anecdotes from her reckless former life, she begins to see her story with a stranger's eyes, and is flooded with shame. "She'd never considered herself thoughtless or immoral. Fun, a little hell-bent, maybe, impulsive, but always amusing. And basically a good person. Now, seeing the miles driven drunk, the pranks, the commitments ignored, the marriages violated, and her obliviousness throughout, she seemed despicable."

From this leap of imagination, other changes follow. Patsy continues going to AA meetings, despite her distaste for the fellowship's clichés and crude religiosity. She teaches high-school-level history to other inmates. She embarks on a tentative association with Mark Parnham, the husband and father of the victims who, while slightly repulsed by Patsy's stammering apologies, recognizes that the tragedy has joined them together. "We're in each other's lives now," Mark tells her. "We can't change what happened, but we can help each other from here on out."

Boiled down to their essence, all three of Huneven's novels could live comfortably within Mark Parnham's brief statement. (She's also the author of Round Rock, from 1997, and Jamesland, 2003.) But the beauty of her fiction is that it can't be boiled down. In ways that only a novel — that roomiest of art forms — can manage, it traffics in the long, slow, constant mutability of human lives. No person in Huneven's world is ever any one thing: everyone keeps changing and everything keeps turning, from a perspective as spherical as the oddly symmetrical boulders that sprinkle the rural California landscape in Round Rock, which shares a couple of the same characters as Blame. In fact, it sometimes seems as if there are no distinct Huneven novels at all, or that they are all part of one big book, one glittering web of life with no real beginnings or ends.

In Blame, the author keeps this impression going by re-introducing characters over stretches of time. When Patsy finishes her prison sentence — which has included months of grueling work on the firebreaks in the Malibu hills — Patsy re-enters civilian life to find her former boyfriend Brice involved with a beautiful 20-year-old boy named Gilles. Although Brice will continue to be a faithful ally for years to come, it's Gilles who shines more brightly, if more briefly. Sharp-tongued and vivacious, Gilles ushers Patsy into her bewildering new existence, taking her daily to AA meetings — he's been in recovery for two years himself — and offering her a tactful, practical, deeply sympathetic kind of friendship.

Whether major or minor, all the other characters share the same illusion of authenticity. Gilles's uncle, a legendary former drinker turned AA luminary who "shook hands like a senator," becomes Patsy's sponsor, urging her to use her story to help others. She begins teaching ESL at Pasadena City College, where her adult students are native speakers of fourteen different languages. "I am so impression with your candor," offers an Eritrean woman, upon learning Patsy's history. But Patsy, whose single mission now is to learn how to live with guilt, is hardly a saint. Yes, she's brave and earnest and newly compassionate, but she's also jealous and occasionally supercilious about her sobriety.

If changing over time is what Huneven's characters do best — Patsy ages 21 years by the time Blame ends, in 2001 — the author's sense of place is no less authentic and just as mutable. The changing fortunes of Altadena and its Southern California environs are punctiliously re-created here, from the miscellaneously designed houses that "formed a kind of architectural beauty pageant" to the "last crumpled brown leaves" of the sycamores; from the careful distinction between smog and the local marine layer that only area natives understand to the condo conversions of once-grand nearby Pasadena hotels.

Living with change, living with sobriety, living with guilt: in all her novels, Huneven shows each of these conditions to be a leap of imagination and an act of faith. The same goes for the activity of writing fiction, or reading it, for that matter. One of the characters in Jamesland, riffing on the philosopher William James, called the contemporary quest for spirituality "the variety show of religious experience." Patsy, who muses after someone gets the facts of her story wrong that "to provide a false tale that helped others was not such a bad thing," would understand.