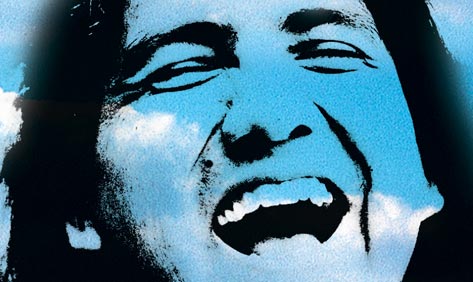 Sherman Alexie's new collection, Blasphemy, celebrates the twentieth anniversary of a vibrant writer's debut. It's hard to believe, but 1992 was twenty years ago, when Alexie burst onto the scene with The Business of Fancydancing, a collection of poems. The focus of his work since, which centers on the Native American experience within and outside the reservation, has not changed. Nearly every single story in this collection — which brings together fifteen previously published stories alongside fifteen new ones — pivots on the experience of the people of the indigenous tribes, specifically that of the Spokane.
Though the issues his characters face, such as criminal violence, abandonment, and health crises like alcoholism and cancer, may constitute familiar territory, Alexie continues to surprise — and to make the details of such loss relatable to anyone. In "War Dances," the narrator soberly describes his father's grave after his death from alcoholism. "We buried my father in the tiny Catholic cemetery on our reservation. Since I am named after him, I had to stare at a tombstone with my name on it."

Alexie's open, plainspoken narrative style allows the reader to take in the intense experiences of his characters without feeling weighted down. Humor is a constant throughout: In "Indian Country," Low Man calls up an old friend. "Are you still an Indian?" she asks. "Yes I am," he answers. "Are you still a lesbian?" The cleverly titled "The Search Engine" finds a young native woman explaining that she actually enjoys being made to feel special, but when it comes to white roommates, "it's tough to share a bathroom with an Indian and continue to romanticize her."

The combination of Alexie's classic stories and new offerings make Blasphemy the perfect book for first-time and devoted readers alike. Reading it from beginning to end makes it plain to see why the voices in Alexie's work have struck a chord with readers for the past twenty years: they occupy that honest place between warmth and sorrow.