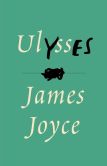 On this day in 1922, James Joyce's fortieth birthday, Ulysses was first published. Joyce was very superstitious, and very apprehensive of a hostile reception for the novel that had been seven years in writing and sixteen years in gestation. Just as he had chosen his first date with Nora Barnacle as the day for his novel, he chose the birthday publication for luck. Because mainstream publishers had been scared off by the obscenity issue, the first edition was a small press run of only 1,000 copies, financed by Sylvia Beach's bookstore, Shakespeare and Company. In response to nervous notes and cables, the printer made assurances that three copies of the book would be mailed from Dijon on February 1, sure to arrive in Paris on the next day. For Joyce, now in an agony of "energetic prostration," this was an invitation to the postal gods, and he prodded Beach to make other shipping arrangements.
On February 2, at 7 a.m., Beach met the Dijon-Paris express and received from the conductor the delivery of not three but two copies of Ulysses. One went to Joyce, the other went on display in the bookshop, where the literati crowded in from 9 a.m. until closing time to see it. Joyce took his copy to a small celebration dinner that evening, emotionally unwrapping it after dessert — a plain blue cover with white letters, his lucky colors. The dinner companions included Richard and Lilian Wallace, a young American couple; seven months earlier Joyce had overheard Mrs. Wallace in conversation repeating "yes" again and again, in different intonations, thereby providing the word which Joyce used to begin, end, and anchor the famous 45-page, 8-sentence Molly Bloom monologue that concludes the book:
…yes when I put the rose in my hair like the Andalusian girls used or shall I wear a red yes and how he kissed me under the Moorish wall and I thought well as well him as another and then I asked him with my eyes to ask again yes and then he asked me would I yes to say yes my mountain flower and first I put my arms around him yes and drew him down to me so he could feel my breasts all perfume yes and his heart going like mad and yes I said yes I will Yes.
Joyce's biographers make it clear that he had every confidence in his achievement, and little hope of getting wide recognition for it. The following advice is from a February 8 letter to Robert McAlmon: "The British Museum ordered a copy and so did the Times so that I advise you to go to confession for the last day cannot be far off."
---
Daybook is contributed by Steve King, who teaches in the English Department of Memorial University in St. John's, Newfoundland. His literary daybook began as a radio series syndicated nationally in Canada. He can be found online at todayinliterature.com.