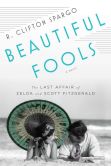 F. Scott Fitzgerald and Zelda Sayre were married on this day in 1920. Their springtime wedding was the direct result of Fitzgerald's success with This Side of Paradise, published the previous week to such acclaim that Zelda overcame her (and her family's) worries about marriage to a struggling twenty-three-year-old writer. Fitzgerald published two more novels and three story collections over the next six years, then nothing for the next eight years and very little during the sixteen years preceding his death in 1940.

The Fitzgeralds' personal life has the same sense of a long and irrecoverable springtime. The legendary champagne-and-dancing anecdotes begin with their wedding celebrations — the raucous party was forced out of two of New York's finest hotels — and last for precisely a decade, until Zelda's first mental breakdown in April 1930. The following letter is from April 26, 1934, Scott writing to Zelda with hopes for a new beginning even as she undergoes treatment for her third breakdown:
You and I have been happy; we haven't been happy just once, we've been happy a thousand times. The chances that spring, that's for everyone, like in the popular songs, may belong to us too — the chances are pretty bright at this time because as usual, I can carry most of contemporary literary opinion, liquidated, in the hollow of my hand — and when I do, I see the swan floating on it and — I find it to be you and you only…. Forget the past — what you can of it, and turn about and swim back home to me, to your haven for ever and ever — even though it may seem a dark cave at times and lit with torches of fury; it is the best refuge for you — turn gently in the waters through which you move and sail back….
In an echo of the closing to The Great Gatsby (April 1925), the two would be borne back ceaselessly to only the most troubling and trying aspects of their past. The Fitzgeralds spent some weekends and brief periods together over the next five years, but Zelda was often in confinement, and there was no return to married life. The last time they saw each other was in April 1939 — a holiday to Cuba, where Scott was beaten up and subsequently hospitalized for his drinking problems. This last attempt to recover love and marriage is the subject of R. Clifton Spargo's upcoming novel, Beautiful Fools.
---
Daybook is contributed by Steve King, who teaches in the English Department of Memorial University in St. John's, Newfoundland. His literary daybook began as a radio series syndicated nationally in Canada. He can be found online at todayinliterature.com.