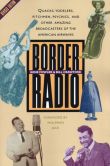 It was those 250,000 watts, baby, each and every one of 'em making their way across the continent, getting into every city, every little town and hamlet, cuttin' through the night like a knife through a thick fog. We will probably never again see the likes of it.… [But] if one night you're cuddled up in bed with the radio on and the moon gleaming through your window, and suddenly you hear a strange static followed by a howl, or a plea to get a goat-gland operation, or a voice tellin' you to send a few hard-earned bucks for a reverend's down-home church, listen closely…you are most likely in tune with the magic that was border radio.
Wolfman Jack (Robert Weston Smith) was born on this day in 1938. The passage above is from the Wolfman's Foreword to Border Radio, Gene Fowler and Bill Crawford's history of the "Quacks, Yodelers, Pitchmen, Psychics, and Other Amazing Broadcasters of the American Airwaves." With his "taste for white-hot rhythm and blues," and his voice like a "molasses-coated jackhammer," the Wolfman single-handedly "slam-dunked border radio into the '60s," say the authors. And into the teen psyche of George Lucas and his production team, who immortalized the Wolfman in American Graffiti:
They open the film on a giant amber light; as the camera pulls back we realize it is the marking on a radio dial. The structure of the film comes from the radio program, the songs that disc jockey Wolfman Jack plays.… The Wolfman's howl, his wild rock and his wilder phone calls, are part of California mythology. (Sally Kline, George Lucas: Interviews)
---
Daybook is contributed by Steve King, who teaches in the English Department of Memorial University in St. John's, Newfoundland. His literary daybook began as a radio series syndicated nationally in Canada. He can be found online at todayinliterature.com.