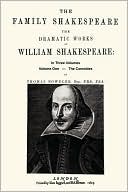 February 24: Thomas Bowdler died on this day in 1825. Though not the patron saint of censorship — that would be St. Anastasia, who resisted her Roman persecutors so vociferously that they cut out her tongue — Bowdler has a secure, if scorned, place in literary history. He and his wife produced an expurgated version of Gibbons's The Rise and Fall of the Roman Empire and of the Old Testament, but his fame lies with The Family Shakespeare, which first appeared in 1807 to little success or controversy. Of the three reviews the book received, only one congratulated Bowdler for his "castrated version" of the Bard. The second allowed that some Elizabethan drama might need editing for "some squeamish people," but "Shakespeare, we should think, might have escaped." The third review vigorously objected that Bowdler didn't go nearly far enough towards his proclaimed goal of eliminating "everything that can raise a blush on the cheek of modesty," or cannot "with propriety be read aloud in the family."
Both Hamlet and Romeo and Juliet received over 100 cuts. The sexy bits in Othello were so reduced — for example, the squealing Iago reports to Desdemona's father that she and the Moor are "together," rather than "making the beast with two backs" — that even Bowdler thought the play no longer made sense, and parents might better move it permanently "from the parlor to the cabinet."
But over the next decade or two, as the Family Shakespeare and the spirit behind it gained fans, the cutting got bowdler and bowdler. In Shakespeare's Macbeth, the drunken Porter gets about twenty lines for his famous take on the various criminals, despairists and equivocators that go to Hell; Bowdler reduces the twenty lines to six; the Rev. J. R. Pitman, in his School-Shakspere (1822), gets the five sets of knocking down to two and the six lines down to this:
[Knock.] Here's a knocking indeed! [Knock.] Knock, knock, knock.

[Knock.] Anon, anon; I pray you, remember the porter.
Bowdler's defenders point out that his inexpensive versions were largely responsible for popularizing Shakespeare's plays when few had access to them and many schools dared not teach them. Bowdler's epitaph, from Plato, seems an odd choice for someone in his line, but perhaps he too regretted the necessity of his work: "Above all things, truth beareth away the victory."
---
Daybook is contributed by Steve King, who teaches in the English Department of Memorial University in St. John's, Newfoundland. His literary daybook began as a radio series syndicated nationally in Canada. He can be found online at todayinliterature.com.