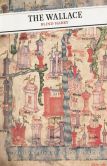 On this day in 1305, Scotland's William Wallace was executed — more specifically, hanged, disemboweled, beheaded, and quartered — as a traitor in London. The William Wallace legend, and the storyline of the Braveheart movie, owe much to a fifteenth-century epic poem by Blind Harry (Harry the Minstrel). A turning-point moment in the movie is the execution of Wallace's wife, Marion, by the Sheriff of Lanark; in the source passage, Blind Harry dispenses this brand of highland justice:
"And thought'st thou, traitor," fierce the hero cried,

"When by thy murd'ring steel she cruel died;

When thy fell hand her precious blood did spill,

Wallace though absent, would be absent still?"

Furious he spoke, and rising on the foe,

Full on his head discharg'd the pond'rous blow;

Down sinks the felon headlong to the ground,

The guilty soul flew trembling through the wound….
Blind Harry's account of Wallace's life ran to nine volumes, but it is said to have had second place only to the Bible in Scottish homes. No doubt it was early and often reading for Robert Burns, who later took the title of "Scots Wha Hae," one of his most famous airs, from Blind Harry's epic. In "a pitch of enthusiasm on the theme of Liberty and Independence," Burns has Wallace join poetic forces with Robert the Bruce against all things British:
Scots, wha hae wi Wallace bled,

Scots, wham Bruce has aften led,

Welcome to your gory bed

Or to victorie!

Now's the day, and now's the hour:

See the front o battle lour, [look menacingly],

See approach proud Edward's power —

Chains and slaverie!
Burns chose discretion over valor when this was first published in a Scottish newspaper in 1794. Given that Scottish independence was still a volatile issue and an imprisonable offense, he advised that the newspaper print the poem "as a thing they have met with by accident, and unknown to me." Less discreet was the overwhelming vote for the new Scottish Parliament, held in 1997 on the 700th anniversary of Wallace's victory over English troops at Stirling Bridge.
---
Daybook is contributed by Steve King, who teaches in the English Department of Memorial University in St. John's, Newfoundland. His literary daybook began as a radio series syndicated nationally in Canada. He can be found online at todayinliterature.com.