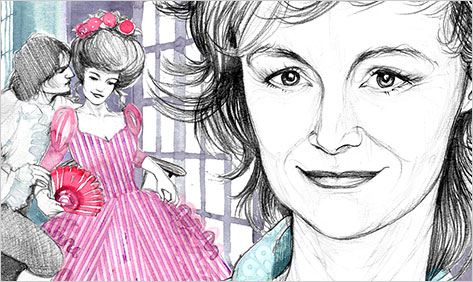 Courtship may seem to have no resemblance to preschool, but in fact, in both cases fairly ungovernable forces are corralled by rules that dictate everything from the first canoodle to safe sex (or, if you're a four-year-old, crayons and tantrums). "Don't Sleep With Your Boss" is probably the most important, though if you happen to be a Regency miss, you should adhere to a bigger decree: "Don't Sleep with Anyone." In short, historicals forbid unmarried sex, and contemporaries forbid sex that overlaps with work. While the contrast offers fascinating fodder for cocktail party conversation, the result is a raft of terrific romances in which the couples in question break the most important rules. They sleep with the wrong people, at the wrong time, and without (to put it formally) the benefit of matrimony.
Sarah MacLean's Nine Rules to Break When Romancing a Rake begins when Lady Calpurnia Harwell, mortified by her wallflower status and hideous orange dress, slinks away from the ballroom without a chaperone. That's the first time she breaks the rules, and when she meets a wickedly handsome rake, Gabriel St. John, the Marquess of Ralston, she continues the trend. Still unmarried ten years later, Callie makes a list of the rules she'd break if she had the courage. Before she knows it, she's fencing, smoking cheroots and riding astride, firing a pistol and gambling. But there's one thing on her list that she can't do alone: Be considered beautiful. Just once. That's where Gabriel comes back into the picture. He thinks she's beautiful — which leads to Callie breaking such a large rule that she didn't put it on the list. She throws herself and her heart at Gabriel, risking her last shreds of dignity. If you were ever humiliated at a dance, or wished that you could throw all the rules away, this is the book for you.
Kate Noble's The Summer of You made me feel as if I were reliving a dazzling summer romance, the kind with delicious secrets, lake swims at night, and enraged brothers. I hate to admit it, but I never had such a romance. It takes a remarkable gift to evoke a summer so clearly that the reader feels as if she were Lady Jane Cummings, who found herself in the country and went slightly mad, dallying in secret with a lame, brooding war hero, Byrne Worth. Not only does she risk her reputation, but the whole town is convinced Bryne is a highwayman; pretty soon Lady Jane is not only sleeping around (so to speak), but she's sleeping with the enemy. This is a jewel of a book, which will keep you entranced past your bedtime, hoping against hope that Bryne is wrong to dismiss their relationship as "just a summer idyll."
In Slow Heat, Jill Shalvis sets up a similar type of secret "idyll," a passionate interlude that both participants wish to keep to themselves. And just as in The Summer of You, it's the heroine who has the most to lose: her reputation, most likely her job, and certainly her heart. Samantha McNead is the publicist for a major league baseball team, assigned to baseball's top catcher, Wade O'Riley. The fact that she's posing as Wade's girlfriend in order to bring him some positive PR doesn't mean that Samantha loses sight of the kind of man she's dealing with. Wade is the type everyone warns nice girls to avoid: a hard-partying womanizer (who's being sued in a paternity suit, to boot). Plus, he's her client. Yet even though cameras dog their every step, Samantha and Wade manage to turn a fake relationship into the real thing, and a PR gimmick into true love.
Samantha, Callie, and Jane break the rules organizing courtship between equals, but Lady Georgina Maitland in Elizabeth Hoyt's The Leopard Prince takes it a step further: she sleeps with her land steward, Mr. Harry Pye. The book is set in the Georgian period, which was definitely more frisky than the Regency, but even so, the greatest barrier of all is class — not to mention the fact that Georgina is Harry's boss. But Harry is, as he tells Georgina, "not a servant to jump to your bidding and then lie down when you've done with me," and she faces a tussle from the moment she sees Harry not as her employee, but as a man. Her brothers are horrified; such a relationship would ruin not only her own reputation, but that of the family as a whole. Hoyt weaves a fairy tale into the story (that of the Leopard Prince), which helps sweep the reader along to the moment when Georgina informs Harry how their story ends: Happily Ever After.
If Georgina is sleeping with a member of a lower class, DA Kim Fraser, in Jennifer Ashley's Pride Mates, takes it a step further: she sleeps with a man who's a Shifter, a member of a disenfranchised, lower race. Pride Mates is the first in a new series that establishes a world in which shape-shifters are classed as animals even while in human form, forced to wear collars that control their aggression, and fenced in towns on the edges of human communities. As DA, Kim is thrilled to be assigned to the first Shifter murder case in twenty years, but when she meets Liam Morrissey, all her preconceptions about Shifters go out the window. Any relationship with him would lead to her ruin, loss of her job, her friends, her respectability. He's more than just a man from the wrong side of the tracks or the servants' quarters — he's literally an animal, a "wild beast in captivity," as Liam describes himself. And yet…like the other women in this column, who break the rules that underline their very culture, Kim finds it impossible to pay attention to her boss's warning that she'll be "finished." Liam's and Kim's romance has all the wild sweetness of the forbidden, and all the delight that comes from breaking the rules.
When my son started kindergarten, he used to hop most of the time. His new teacher called me up and said that he had to walk properly while in class. I've never forgotten the way his face fell when I told him. "You're trying to take the hop out of me!" he protested. Society has a way of doing that. These books celebrate women who look at social rules and realize that sometimes hopping is much better than walking — it's closer to flying, and closer to joy. These are novels that celebrate breaking the most forbidding rules and remembering that in the end, the heart makes its own laws.
---
If you'd like to discuss romances featuring rule-breakers — those in the column or your own favorite examples — please stop in to chat with Eloisa James in the Romantic Reads Book Club, where she'll be joined by Sarah MacLean, Jennifer Ashley and Kate Noble. Please do check out Eloisa's past columns in the Archives, and if you'd like to get her reaction to romances as she reads them, follow her on Facebook or Twitter. If you'd like a peek at Eloisa's own romances, please visit her web site at www.eloisajames.com.
And don't forget the Barnes & Noble daily romance blog, Heart to Heart, where you can chat about the hottest news in the world of romance, from favorite authors to scorching love scenes.