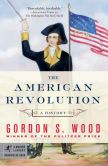 Tea Party politics got its start on this day in 1773, when the Pennsylvania Gazette, responding to Britain's new Tea Act, published their eight Philadelphia Resolutions, urging loyal patriots to resist this "violent attack upon the liberties of America":
Resolution #4: That a virtuous and steady opposition to this ministerial plan of governing America is absolutely necessary to preserve even the shadow of liberty and is a duty which every freeman in America owes to his country, to himself, and to his posterity.
Exactly two months later, a group of Massachusetts citizens put their resolve into action by way of the Boston Tea Party.
---
Daybook is contributed by Steve King, who teaches in the English Department of Memorial University in St. John's, Newfoundland. His literary daybook began as a radio series syndicated nationally in Canada. He can be found online at todayinliterature.com.