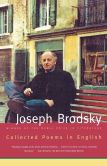 Joseph Brodsky was born on this day in 1940 in Leningrad (formerly, and now again, St. Petersburg). In his essay "Less than One," Brodsky notes that the omnipresence of Lenin in his childhood — his image or inspirational message on "almost every textbook, every class wall, postage stamps, money…" — was character-defining:
I think that coming to ignore those pictures was my first lesson in switching off, my first attempt at estrangement. There were more to follow; in fact, the rest of my life can be viewed as a nonstop avoidance of its most importunate aspects.
Brodsky's skepticism was not compatible with the official alternatives. By age twenty-five he was in prison, wrapped in cold, wet sheets as a cure for "having a worldview damaging to the state, decadence and modernism, failure to finish school, and social parasitism…except for the writing of awful poems." The following is from a transcript of the trial taken down in shorthand by a Soviet journalist and sent to the Western press:
Judge: And what is your profession in general?

Accused: Poet-translator.

Judge: Who recognized you as a poet? Who listed you in the ranks of poets?

Accused: No one. Who listed me in the ranks of humanity?
The lines below are from "May 24, 1980," Brodsky's poem on his fortieth birthday, now looking homeward from exile in America:
…I have waded the steppes that saw yelling Huns in saddles,

worn the clothes nowadays back in fashion in every quarter,

planted rye, tarred the roofs of pigsties and stables,

guzzled everything save dry water.

I've admitted the sentries' third eye into my wet and foul

dreams. Munched the bread of exile; it's stale and warty.

Granted my lungs all sounds except the howl;

switched to a whisper. Now I am forty.

What should I say about my life? That it's long and abhors transparence.

Broken eggs make me grieve; the omelette, though, makes me vomit.
In his 1987 Nobel Prize Banquet Speech, Brodsky reflected that he was once again standing on the shores of the Baltic Sea, though this time across from his hometown, and that his route had been "one hell of a way to get from Petersburg to Stockholm."
---
Daybook is contributed by Steve King, who teaches in the English Department of Memorial University in St. John's, Newfoundland. His literary daybook began as a radio series syndicated nationally in Canada. He can be found online at todayinliterature.com.