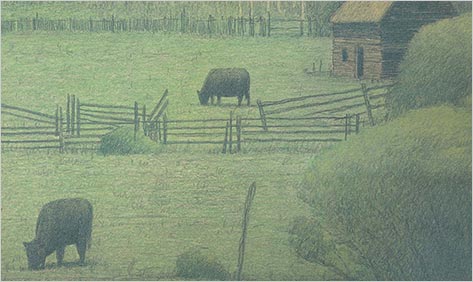 Hallelujah for this omnibus collecting all five of Jim Harrison's wonderful, previously published Brown Dog novellas, plus a bonus, unusually sentimental new one. Brown Dog isn't a canine but a woodsman, fisherman, charming lecher, and free spirit of mixed Chippewa-Finnish blood. He is one of Harrison's finest creations, a standout in a prolific career that has captured American wildlife and wild lives, the disenfranchised poor and ambitious academics, and the sublimity of our vast forests and hidden streams in more than thirty books of poetry, novels, and novellas, including Legends of the Fall, True North, and The Great Leader.

Harrison first introduced this goofy, winning loser and "wonderful backwoods nitwit" in his 1990 collection, The Woman Lit by Fireflies, which along with the title novella from the 2005 collection, The Summer He Didn't Die, remain the strongest Brown Dog tales. If you're going to read just two, these get my vote, but my guess is that once you submit to the charms of the original "Brown Dog," you're going to sit up and beg for more. Just be prepared for some serious delight, along with earthy whiffs of wild morels and morals, booze and botany, and lots of unapologetically horndog sex.

Brown Dog lives and lusts off the grid in Michigan's Upper Peninsula, where "getting drunk twice in one day" was called a doubleheader and summer was "known locally as three months of bad sledding." He supports himself — barely — with odd jobs, logging wood for pulp, repairing deer cabins, and shoveling snow. Fueled by a steady diet of six-packs, schnapps, gamy stews, and hearty sex, he thrives on walking in the woods, fishing, and hunting. He'd like to know something about his parents, who disappeared when he was a baby, leaving him to be raised by his grandfather — and so would we, just one narrative thread that engrosses us in these robust, rollicking tales.

There's something hapless but never hopeless about Brown Dog, who constantly gets caught up in harebrained schemes to protect what's sacred to him, including the Anishinabe burial grounds, whose location he's stupidly divulged to a seductive anthropology graduate student during a "pussy trance." While diving for salvaged treasure in the frigid waters of Lake Superior, he brings up a perfectly preserved dead Indian in full tribal regalia, whom he attempts first to sell, and then, concerned it may be his long-lost father, bury with dignity rather than turn over to the authorities.

B.D., as he's often called, frequently ends up on the lam. He's a fish out of water when he lands in Los Angeles in pursuit of a precious bearskin bequeathed to him by his wealthy uncle Delmore. Harrison milks the culture shock to highlight the absurdities of Hollywood, where altering a line from "Call me a cab" to "Get me a cab" is considered important work — a culture he knows firsthand from his own experience writing screenplays. A visit to a Costco in Montana is nearly as mind-blowing for Brown Dog. In a particularly moving caper, this noble and utterly gentle savage flees with his fetal alcohol–damaged stepdaughter, Berry, to Canada in order to protect her from certain misery in the state institution to which she's been remanded. Berry is a woodland nymph who will never speak but can imitate more than fifty birdcalls perfectly — and who, like Brown Dog, would perish in captivity.

A warning about this collection: It hasn't been edited for continuity, which means there are repetitions — including recaps of Brown Dog's prior foibles and "low crimes and misdemeanors." What may be more annoying to some readers is the frequent recurrence of words and phrases such as "weenie" and "got more ass than a toilet seat," the latter of which is funnier the first time around than the third.

Attentive readers will also note that Harrison's timeline doesn't quite add up. We're told in the second novella that Brown Dog was born in 1950, yet he's already forty-seven when we meet him in the story first published in 1990. There are further inconsistencies concerning his uncle Delmore's age and the timing of his grandfather's death. More confusing, in the final tale, "He Dog," Brown Dog and his elusive beloved, a lesbian social worker named Gretchen, both note that their elaborate, often heartbreaking mating dance has been going on for a decade. By my calculations, the elapsed time of this screwball storyline is well under five years. No matter — an author has the right to change his mind (and details) between stories, and anyway, chronology is no doubt fungible to "those lucky ones to whom clocks are of no consequence but who drift along on the true emotional content of time."

Book group discussions often — too often, in my opinion — hinge on whether readers like a character. While Gretchen recognizes that her dear B.D. is "clearly the opposite of anything the culture thought was acceptable," he is as likable — not to mention interesting and self-aware — as they come. "He was one of those very rare men who, for better or worse, knew exactly who he was," Harrison writes. This is a man whose "inner and outer child were pretty much glued together" — and stuck at around age twelve. His success with women isn't just because "he was quite a physical specimen from his lifelong work in the woods" but because he conveys a genuine, unironic fondness for them. Far from being the "functionally illiterate…rawboned Indian logger" described by a glib journalist doing a story on the Upper Peninsula's "outcast subculture," Brown Dog's reading encompasses girlie and fishing magazines, all of his grandfather's library of Horatio Alger and Zane Grey, and Gabriel García Márquez's One Hundred Years of Solitude, given to him by a "rich cottager."

Harrison uses this bawdy yet thoughtful comic hero to highlight the inanities and hypocrisies of modern life and show what actually matters — open season for book group discussions. For the most part, Brown Dog lives in the present, blithely unconcerned with things beyond his ken, including world news and the future. He often lapses "into a state much envied by the ancients. He thought of nothing for an hour and merely absorbed the landscape, the billions of green buds in thousands of acres of trees surrounding him…. He had never thought a second of the word 'meditation' and this made it all easier because he was additionally blessed with no sense of self-importance or personality which are preoccupations of upscale people."

With Brown Dog, Harrison has succeeded in creating a sort of unknowing sage with depths akin to those of trout holes. "I've got this personal feeling things are not supposed to be happening to people all the time. At least I'm not designed for it. There should be more open spaces between events," he reflects. Yet time after time when he's "down in a mind hole," the "almost unpardonable beauty" of nature buoys him: "All in all, he thought, nearly everything was impossible but then along came things as marvelous as creeks and –" Creeks and what? I'll leave it for you to discover that other marvelous thing in a book filled with marvels — but just say that it has everything to do with a profound sense of connection.