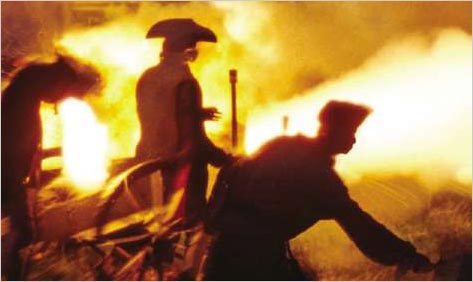 After the June 1775 Battle of Bunker Hill, the devastating clash that marked a turning point in America's complicated path to independence, Loyalist Jonathan Sewall described life in Boston, a city whose residents had fled as British soldiers arrived in droves to subdue the rebellious colonists. "Death has so long stalked among us that he is become much less terrible to me than he once was," Sewall wrote of the British casualties he encountered. "Funerals are now so frequent that for a month past you meet as many dead folks as live ones in Boston streets, and we pass them with much less emotion and attention than we used to pass dead sheep and oxen in days of yore."


Such was the aftermath of a brutal fight that had technically been won by the Crown; but with more than 1,000 killed or wounded on the British side compared to 115 killed and 305 wounded on the American side, it was a victory that British commander William Howe ruefully called "too dearly bought." In Nathaniel Philbrick's Bunker Hill: A City, A Siege, A Revolution, the dramatic retelling of the battlefield action comes as the culmination of a clear-eyed account of the events leading up to it. Bunker Hill, the first major engagement of the American Revolution — and its bloodiest — transformed "a rebellion born in the streets of Boston" into "a countrywide war for independence."


Philbrick, National Book Award winner for In the Heart of the Sea and author, most recently, of Why Read Moby-Dick?, is known for challenging the mythic versions of celebrated episodes in American history, including the Mayflower voyage and Custer's Last Stand. His approach is especially suited to a battle whose very name is misleading. In the tense weeks following the skirmishes at Lexington and Concord, both sides — the British troops occupying Boston and the New England militiamen who were surrounding the city, holding it under siege –weighed their next moves. Hearing that the British were planning to take Dorchester Heights and Bunker Hill, the Patriots set out to preempt them by fortifying Bunker Hill themselves. For reasons that remain unclear to this day, they instead constructed their redoubt on nearby Breed's Hill, which became the eventual site of the conflagration. Because of the geography of Breed's Hill, Philbrick explains, "instead of a defensive position, this was an unmistakable act of defiance," one that "invited a forceful response from the British army." Though the Patriots were outnumbered and dangerously low on gunpowder, they inflicted major casualties on the British before retreating.
Philbrick complicates the version of events you might have learned in elementary school with sympathetic portrayals of British commander Howe and his predecessor Thomas Gage, both of whom were deeply reluctant to wage war against their countrymen, and with warts-and-all portrayals of the Patriots, who could be thuggish and violent in their suppression of Loyalist sentiment. Furthermore, he centers much of his narrative around the largely forgotten Dr. Joseph Warren, an ambitious, charismatic Boston doctor and Patriot leader who, declaring a desire to be "where wounds were to be made, rather than where they were to be healed," recklessly joined in the fighting, only to be killed at Breed's Hill. Philbrick seems to place some stock in the assessment of Loyalist Peter Oliver, who later remarked that had Warren lived, George Washington would have been "an obscurity." Whether or not that's true, the author establishes that, at the very least, the ambitious and well-loved Warren — the man who sent Paul Revere on his legendary ride to warn the countryside that the British were coming — would have played a major role in ensuing events and would likely be one of our well-known Founding Fathers today.


It is a testament to the author's skills as a researcher and writer that Warren's death has emotional heft. Philbrick is masterful when it comes to selecting rich details to give an epic story a human dimension, whether describing renowned figures like Samuel Adams and John Hancock or anonymous soldiers. He describes a young, recently married brickmaker who donned his wedding suit before heading into the fighting following the British retreat from Concord and Lexington; he told his new wife, "If I die, I will die in my best clothes" — and indeed, he did. 


While Bunker Hill is dramatic popular history, Philbrick anchors it in larger political themes. He reminds us that even after the fighting began, many Patriots remained loyal to the British monarch, George III, and saw themselves as struggling not for independence but for the liberty due them as Englishmen — liberty that they did not extend to women, blacks, Native Americans, or Catholics. By late 1775, however, the tone was shifting: the Patriots "were no longer fighting simply to preserve their ancient liberties; they were fighting to create a new nation." What had started out as a conservative movement had taken a radical turn, and when, the following summer, the Declaration of Independence was first read aloud in Boston, it was met with cheers. Of course, the contradictions between the affirmation that "all men are created equal" and the realities of American life would test the nation again and again, long after the battleground in Boston had receded into something like myth.