When people talk about the best cookbooks of all time, a few titles tend to come up as often as a strip steak served over roasted potatoes with a port demi-glaze on restaurant menus: Mastering the Art of French Cooking, Le Guide Culinaire, The Silver Spoon, Summer Cooking, or The French Laundry. But among chefs, the book that comes up over and over again is probably Marco Pierre White's White Heat. In this book, White, along with revered photographer Bob Carlos Clarke, capture not just the author's culinary genius but the raw and chaotic truths of what it means to be a cook and a chef. Released in 1990, it offered a rare glimpse into one of England's most important restaurants, Harvey's, and its polarizing chef. Now, twenty-five years later, White returns to the book that established his voice, in an edition aimed at the rising generation of chefs, taking the opportunity to reflect on his impact on the culinary world and what it means to be a food professional in a culture that has become obsessed with eating.
When White was awarded his third Michelin star at age thirty-three, he was the youngest chef ever to achieve that elusive honor. Getting there had been a struggle. White was born in Leeds, England, on Dec. 11, 1961, to Maria Rosa Gallina, who had been born in Italy, and British-born chef Frank White. Maria kept a fundamentally Italian household in which White thrived until the age of six, when his mother died. Unhappy under the care of his difficult father, White left home at sixteen and took first job at a hotel kitchen, doing mostly grunt work. It was at the the Box Tree in Ilkley, working under the direction of Michael Lawson, that White's obsession with food started to grow.
Next, White worked in tandem at two London restaurants, spending his mornings at Nico before putting in afternoons and evenings at Gavroche. Working with chefs Nico Ladenis and Albert and Michel Roux, White learned what cooking is really about: paying attention to details, cooking with a controlled hand, and respecting the ingredients. It was also a time when White's wild side came to the fore: Settling into a kind of gastro-punk lifestyle, he would cook for a few weeks to support long periods on a bender. But before a couple of years had passed, White came to see he couldn't continue this way and reentered the culinary world from the very bottom. Returning with vigor, he entered the kitchen of Pierre Koffmann and worked for free, proving his worth by performing the kitchen tasks no one else wanted to do. Knowing this would be probably be the last place he worked before stepping out on his own, White took every chance to refine and focus his palate.
Determined to succeed, White opened Harvey's along Bellevue Road in downtrodden Wandsworth Commons during the brutally cold January of 1987. The restaurant was often empty. However, a glowing springtime review  in the Sunday Times by Egon Ronay turned things around, and, like animals waking up from hibernation, people started to come in, setting up for success not only Harvey's but the soon-celebrated career and larger-than-life mythology of Marco Pierre White. The stories are legendary, including accounts of White throwing people who asked for salt out of the dining room and tossing cooks into garbage bins. He was rumored to have had sex in between courses and to have made Gordon Ramsey, who got an early break by working with White, cry on his last day at Harvey's. It was also during this time that the pictures and recipes were developed for the original edition of this book, which was released in 1990. They and it would take White from critically acclaimed British chef to the first true rock star of the culinary world.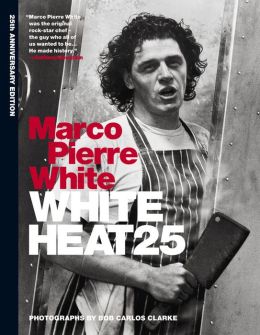 White Heat 25 adds rather than changes: it's been loaded with quotes from chefs, and an added epilogue features more musings and culinary stars who have been influenced by White. There is also a timeline of White's cooking career, a letter of reflection on the book by Lindsey Carlos Clarke, Bob's wife, and a final word from White himself. Just like in its original format, the book features pictures of White and his crew, cooking the chaotic ballet that was dinner service at Harvey's. It shows off White's simple yet highly effective method of plating his food in the manner of a clock. Surrounded by these images are the words, philosophy, and opinions of the man himself.
The recipes were, and still are, revolutionary. Lobster raviolis became a well-worn food trend because of White. And his delicate dish of tagliatelle of oysters with caviar highlights his deep affection for fresh ingredients. His favorite dish is braised pig's foot "Pierre Koffman," a sort of homage to one of his great mentors. Let's not forget about the sense of delight and pure fun in White's desserts, like passion fruit soufflés and roasted pears with honey. These dishes show a wide range of techniques, flavors, and inspirations. You can see in them the influences of the great French chef Escoffier as well as White's mother, Maria (any hint of his alcoholic father is pointedly absent). The menu at Harvey's was a combination of French technique, Italian philosophy, and British brashness.
Yet it isn't the recipes that make this book the success that it was and is. The pictures, taken by the late, great Bob Carlos Clarke, were like none other seen in cookbooks before, and to this day, the style still influences how cookbooks are shot. Even within the book, one can see this difference between Clarke's action shots of White and his staff and the stylized food photos featured in the book (taken by Michael Boys). The  clean and colorful food photos, while in keeping with the style of the time, feel dated and worn today. Yet the photos by Clarke feel alive, dangerous, and most important, intimate.
White and Clark met in 1986. They were drawn together by similar personalities and their passion for their work. Clarke would often eat at Harvey's near the end of service, so the two could talk, drink, and bond together. Clarke, who at the time was known for his fashion and fetish photography, rarely photographed men. But he saw something in Marco and decided to take some pictures of him in a graveyard, lying on a tombstone. These pictures led to a photo shoot where the two of them adopted a dark and, honestly, perverse take on one of the most standard chef poses, the  pig on the chef's shoulder. In this case, it was a shark. The effect was quite disturbing, but these boundary-pushing photos set the tone for the arresting style that would make White Heat such a touchstone.
Clarke, inspired by Don McCullin's photographs of the Vietnam War, gave the photos a grainy, almost exploitive feel. The cover features White brandishing a meat cleaver, looking like the  love child of Mick Jagger and Leatherface. Pictures of the staff in the kitchen are blurred because everyone was moving at a breakneck pace. At any moment, it looks like the kitchen is about to go up in flames. Staff are roughhousing one moment and being humiliated the next — there is a glorious shot of a cook who, after complaining that the kitchen was hot, had a paring knife taken to the back of his chef jacket and his pants shredded by White. Yet, Clarke also captures some quiet moments. Pictures of White taking a rare scrap of peace to smoke a cigarette and collect himself reveal that, at the end of the day, he's just another guy working in a kitchen. And the photo of White, plating a dish and kissing a beautiful lady, is a playful shot that brings into focus White's dual obsessions with food and women.
It's the pictures, ultimately, that have allowed the book to endure — the food is wonderful, but Clarke's instantly winning depiction of a kitchen-on-the-edge draws the reader in. The long days, the fatigue, the backbreaking work that everyone does so that the food goes out as perfectly as possible. No wonder figures like Anthony Bourdain and David Chang call out White Heat as a vital influence: Young chefs then and now connect to those moments, because they experience them every day.
But White's incisive words still carry weight as well, not least because he is often railing against pretension: "Anyone who says they have invented a dish is just bullshitting," he insists. At another point, he writes, "Any chef who says they do it for love is a liar. . . .  I don't enjoy having to kill myself six days a week to pay the bank. But if you don't cut the mustard, you're finished." White even admits he isn't fully formed in his technique. At the time of the original printing, he hadn't even been to France yet (he would go, one time, to cook for Rocco Forte at Longchamps, in Paris, on October 1, 1995). These admissions resonated with those who knew these truths all too well. To see and read them, from quite possibly the greatest chef in Britain at the time, gave hope to many people trying to make it in the industry.
After the release of White Heat, both White and Clarke went on to storied careers in the '90s, but both were plagued by professional and personal setbacks in the 2000s. While the two men never worked together again, they maintained a connection. White left Harvey's with two Michelin stars and gained his third at his namesake restaurant in 1995 and again in 1998 at the Oak Room. In 1999, he retired from the kitchen to focus on being a restaurateur but has had limited success and, in 2003, faced accusations that he hit his wife, Mati. Clarke would go on to shoot people like Keith Richards and Rachel Weisz and exhibit his work all over the world. But he was plagued by severe depression, and in 2006, he committed suicide by jumping in front of a train.
But this book endures, especially today. In 1990, it dismantled the old, outdated notions of what a chef could look and act like. Gone was the polite, portly, middle-aged Frenchman in clean linens and crisp tall chef's hat. In its place stood a tall, lanky kid with a wild head of hair and a cigarette hanging from his lip, who looked like he had recently been run over by a car. Marco Pierre White took all that and, with Bob Carlos Clarke, crafted a book that gave the culinary world the finger while smiling as widely as possible. That insouciance and bravado were his lasting gift to the industry. White Heat 25 serves as the perfect reminder of the sheer nerve, obsession, and commitment it takes to work in a kitchen, to run a restaurant — to be a chef. Now finish your cigarette break and get the hell back on the line.