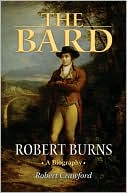 On this day in 1786 twenty-seven-year-old Robert Burns left the family farm in Mauchline for his first, legendary trip to Edinburgh. The specific purpose of this two-day, sixty-mile ride on a borrowed pony was to find a publisher for a second edition of his first book of poems, just out and gaining popularity. But Burns's biographers note that the poet had several larger reasons for his journey. One was to escape a difficult romantic situation at home, this tangle of pregnancies and marriage proposals having also inspired a recent plan to emigrate to the West Indies with "Highland Mary" Campbell. Another was to enjoy city society and to test his powers — whether as poet, drinker, or lover — against it. According to all accounts, Burns made an overwhelming impression in all three areas. One recollection, by the son of the farmer who put Burns up overnight on his initial two-day journey, testifies to the popularity of both the young poet and of poetry in eighteenth-century Scotland:
All the farmers in the parish had read the poet's then published works, and were anxious to see him. They were all asked to meet him in a late dinner, and the signal of his arrival was to be a white sheet attached to a pitchfork, and put on the top of a corn-stack in the barn-yard. The parish is a beautiful amphitheatre, with the Clyde winding through it…. My father's stack-yard, lying in the centre, was seen in every house in the parish. At length Burns arrived, mounted on a borrowed pony. Instantly was the white flag hoisted, and as instantly were seen the farmers issuing from their houses, and converging to the point of meeting. A glorious evening, or rather night, which borrowed something from the morning, followed….
Whether more interested in the poet or the poetry, high society lined up to meet Burns, and he attracted enough patronage to avoid the Jamaica option. Some commentators feel that Edinburgh, "agog with the ploughman-poet," caused Burns to lose his focus and his health. In his recent biography, The Bard, Robert Crawford disagrees, concluding that Burns "coped with the metropolis without becoming metropolitan" and turned a winking eye upon all: "In giving sophisticates of polite Edinburgh the gushing entrails of his rustic haggis, Burns made fun of his celebrity among them."
---
Daybook is contributed by Steve King, who teaches in the English Department of Memorial University in St. John's, Newfoundland. His literary daybook began as a radio series syndicated nationally in Canada. He can be found online at todayinliterature.com.