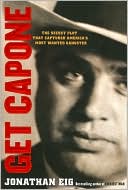 Al Capone was put behind bars on this day in 1931, convicted of tax evasion. Having spent the Roaring '20s as America's most colorful and dangerous gangster, Capone spent most of the '30s in prison, his last five years in Alcatraz. Debilitated by the syphilis he had contracted in his heyday, the former Public Enemy No. 1 was incapable of returning to crime; he died in 1947, seven years after his release, aged forty-eight.

Capone and his trial captivated Prohibition-era America, offering ready copy for the scribes and pundits. Some portrayed the mastermind of the St. Valentine's Day Massacre as a heartless thug; some portrayed the proprietor of "Big Al's Kitchen for the Needy," the first soup kitchen, as Chicago's Robin Hood; and some bought Capone's self-portrait as America's No. 1 little-guy victim:
I've been made an issue, I guess, and I'm not complaining. But why don't they go after all those bankers who took the savings of thousands of poor people and lost them in bank failures? How about that? Isn't it a lot worse to take the last few dollars some small family has saved — perhaps to live on while the head of the family is out of a job — than to sell a little beer, a little alky?
In his first column covering the trial for one Chicago newspaper, Damon Runyon placed himself on the stand, where he dismissed all criminal charges against Capone save that of poor quality control:
I ain't got nothing against Snorky Capone, except wishing he would turn on a better brand of tap beer in the Loop. On my last birthday I took a speedboat ride up the Chicago River, and a lungful of water I got at that time tasted very similar to Snorky's beer. As for his hard liquor, all I can say is — three drinks and you get a nosebleed.
Another Chicago reporter broke into rhyme, cautioning that "Capone's case shows with great positiveness / The one crime for which there is no forgiveness. / The whole Ten Commandments you can treat almighty lax, / But kind heaven help you if you dodge your income tax." Capone's defense lawyers enlarged upon this theme, imploring the jury to accept their role as "the only barrier between this defendant and the encroachment of government." Prosecution lawyers wondered if Capone bought his diamond belt buckles so he could give them to the patrons of his soup kitchen, and if "any man can so conduct his affairs that he can escape entirely the burdens of government." It took the jury just eight hours to deliver their answer.

The material excerpted above is taken from Jonathan Eig's recent book, Get Capone.
---
Daybook is contributed by Steve King, who teaches in the English Department of Memorial University in St. John's, Newfoundland. His literary daybook began as a radio series syndicated nationally in Canada. He can be found online at todayinliterature.com.