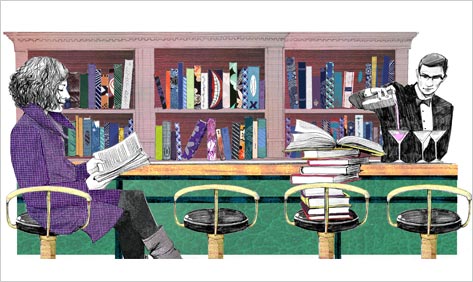 What follows this Introduction is not a traditional cookbook. There are no recipes, the measurements are imaginary, and the photographs, as you will soon discover, are gruesome images entirely unrelated to food. But ever since my first combination bakery/exotic zoo opened in an abandoned spaceship in 1996, I've been asked by literally tens of diners to put together a guide they could use at home to re-create some of my most edible culinary creations. This is the first of eight incorrectly-numbered volumes.
I never intended to write a cookbook. I'm functionally illiterate, and allergic to the gluten that makes up a deliciously crusty yet still chewy sheet of paper. But ever since I was weaned from my mother's milk at age eleven, food has been a tremendous part of my life. My great-grandmother was eaten by Prussian nobles. My uncle laid his own eggs. Mealtime in my house growing up, there was a series of culinary debates: jelly versus jam, micro greens versus macro greens, whether to remove my sister from the pickling liquid. We foraged for berries in the local parks. We dug for truffles under the railroad tracks. We slaughtered animals in the pet store at the local mall. It was perfection.
I first learned to cook as an indentured servant peeling string cheese at a labor camp for convicted money launderers. I discovered the joys of finding an earthworm in your applesauce, or a bloody sock in the cavity of a Cornish hen, trussed with the hastily-removed vocal cords of a retired opera singer and stuffed with a mixture of moisturizer and marbles. I went to culinary school on a barge off the coast of the Czech Republic, harpooning underwater Al Qaeda operatives and turning them into both sweet and savory miniature cupcakes. These experiences led me to my first restaurant, Gristle, where I served nine-course breakfasts at midnight and spent the rest of the day ghostwriting college application essays for the Somali pirates who hand-pounded our pots and pans from sheets of only the finest radioactive scrap metal.
You need no special equipment to cook the food in this volume, just a centrifuge, a Bowflex exercise machine, and a food-grade elasticized polyester hairnet. Much has changed since I began in the industry. Now most local supermarkets sell many of the ingredients that used to require mules to smuggle them across national borders. From whole-grain milk to butterscotch dust, the entire culinary world is at your fingertips for as long as they haven't been sliced by a knife-wielding robot sous chef. I'll show you how to preserve your own artisanal body hair and inject flavor directly into your veins, with barely a scar left behind.
From pink peppercorn sausage marmalade to tree stock, and a petrified duck who will scare the filling right out of your peanut butter ravioli, this book will offer a step-by-step guide to creating meals that only the instructions in future volumes will enable your guests to forget. You, too, can caramelize your most valuable possessions, in the comfort of your home kitchen. Enjoy, and happy emulsificationing.
P.S. Many thanks to my book agent, whom I would never have met if not for the introduction from my leavening agent.
Jeremy Blachman is the author of Anonymous Lawyer and has written for McSweeney's, The Wall Street Journal, and other publications that fall somewhere in between.