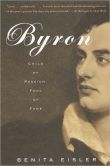 Lord Byron delivered his maiden speech in the House of Lords on this day in 1812, speaking against the Tory government's Frame Breaking Bill. It seems appropriate that one of the era's most controversial poets should be tied to one of the era's most controversial events, the Luddite riots that had begun in Nottinghamshire, site of Byron's ancestral home of Newstead Abbey. The Tory bill proposed capital punishment for those convicted of smashing the new weaving machines. In line with the official Whig position, Byron supported the workers, a "once honest and industrious body of the people" fighting "absolute want" and a heartless government:
How will you carry this bill into effect? Can you commit a whole county to their own prisons? Will you erect a gibbet in every field and hang up men like scarecrows? Or will you proceed…by decimation; place the country under martial law; depopulate and lay waste all around you, and restore Sherwood Forest as an acceptable gift to the crown in its former condition of a royal chase, and an asylum for outlaws? Are these the remedies for a starving and desperate populace?
Few junior Lords had swum the Hellespont, but Byron had joined the Whig Club while at Cambridge and, since taking his seat in the House, had begun to attend debates and do committee work. Some biographers wonder if he might have gone on to a career in politics, had not his personal life and his Byronic hero — the first part of Childe Harold's Pilgrimage was published just days after the Lords speech, bringing widespread fame — taken him over.

Others suggest that Byron had an uncertain grasp of the Luddite problem and politics in general, and that while at home that Christmas came no closer to the working poor than to bed a Newstead Abbey maid: "I am at present principally occupied with a fresh face & a very pretty one too," he wrote in a Christmas Day letter to a friend, "a Welsh Girl whom I lately added to the bevy, and of whom I am tolerably enamoured for the present." Two weeks later, when the truth about the Welsh Girl became clear from an intercepted letter to her new lover, Byron made a different sort of maiden speech. "Return to your relations," he wrote, "you shall be furnished with the means, but him, who now addresses you for the last time, you will never see again."
---
Daybook is contributed by Steve King, who teaches in the English Department of Memorial University in St. John's, Newfoundland. His literary daybook began as a radio series syndicated nationally in Canada. He can be found online at todayinliterature.com.