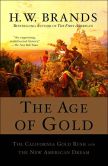 James W. Marshall found gold near Sacramento on this day in 1848, the discovery setting off the California Gold Rush. Marshall's initial find was serendipitous, the gold flakes spotted in shallow water on the American River as he worked on the construction of the grist and lumber mill he was building for John Sutter (eventually Sutter's Mill). After four days of cautious testing and thinking, Marshall shared his news with his boss; the two men tried to proceed quietly, but word leaked out when workers on the mill started using gold they had found during after-hours prospecting to buy goods at the local general store. In The Age of Gold: The California Gold Rush and the New American Dream, historian H. W. Brands describes what happened next, and for seven wild years:
From all over the planet them came…. They came in companies and alone, with money and without, knowing and naïve. They tore themselves from warm hearths and good homes, promising to return; they fled from cold hearts and bad debts, never to return. They were farmers and merchants and sailors and slaves and abolitionists and soldiers of fortune and ladies of the night. They jumped bail to start their journey, and jumped ship at journey's end. They were the pillars of their communities, and their communities' dregs….
Brands wonders if this "most astonishing mass movement of peoples since the Crusades" was driven by "the engine of fate, or perhaps merely of human nature." Then he offers an answering excerpt from the nineteenth-century historian Hubert Howe Bancroft, who in his early twenties had joined the race to California, only to come away empty:
As when some carcass, hidden in sequestered nook, draws from every near and distant point myriads of discordant vultures, so drew these little flakes of gold the voracious sons of men.… This little scratch upon the earth to make a backwoods mill-race touched the cerebral nerve that quickened humanity, and sent a thrill throughout the system. It tingled in the ear and at the finger-ends; it buzzed about the brain and tickled in the stomach; it warmed the blood and swelled the heart; new fires were kindled on hearth-stones, new castles builded in the air. If Satan from Diablo's peak had sounded the knell of time; if a heavenly angel from the Sierra's height had heralded the millennial day; if the blessed Christ himself had risen from that ditch and proclaimed to all mankind amnesty — their greedy hearts had never half so thrilled.
---
Daybook is contributed by Steve King, who teaches in the English Department of Memorial University in St. John's, Newfoundland. His literary daybook began as a radio series syndicated nationally in Canada. He can be found online at todayinliterature.com.