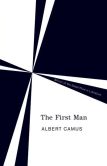 Fifty years ago today Albert Camus was killed in a car crash outside Paris at the age of forty-seven. Both The Stranger and the "philosophical prose-poem" The Myth of Sisyphus were published in 1942; these and subsequent works, along with the political activism and the Humphrey Bogart good looks, elevated Camus to cult status over the next eighteen years. This left him feeling as if sentenced to "the center of a glaring light," and in his 1957 Nobel acceptance speech he asked to be seen only as "a man almost young, rich only in his doubts and with his work still in progress." Camus had always maintained a belief in his "solitaire et solidaire" principles, and he was always on the side of the Left "despite myself, and despite it," but because he was reluctant to use his fame for political causes — specifically, the idea of Algerian independence at any price — Sartre and others formerly friendly began to vilify him. He retreated to his country estate in order to write, if not to save himself:
I forced myself to live like everyone else and to resemble everyone else. I said what was needed to unite people, even when I myself felt a stranger, and in the end, the catastrophe came. Now I wander amid the debris, as an outlaw, drawn and quartered, alone and accepting to be so, resigned to my singularities and weaknesses. And I must reconstruct a truth after having lived a sort of lie all my life.
The incomplete manuscript of The First Man, the autobiographical novel that Camus was working on at his death, was found in the mud at the site of the car accident, and published by his daughter in 1995. Camus hoped that it would be his masterpiece, and so it is regarded by many reviewers, its incompleteness and unrevised, often unpunctuated, form adding to its sense of urgency. Early on, the hero stares at his unknown father's gravestone in Saint-Brieuc, France (where Camus's father is buried), contemplating "the statue every man eventually erects and that hardens in the fire of the years, into which he then creeps and there awaits its final crumbling." Against this petrifaction, the hero offers his "anguished heart, eager to live, rebelling against the deadly order of the world that had been with him for forty years…."
---
Daybook is contributed by Steve King, who teaches in the English Department of Memorial University in St. John's, Newfoundland. His literary daybook began as a radio series syndicated nationally in Canada. He can be found online at todayinliterature.com.