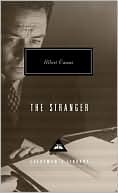 May 19: Albert Camus's first and most famous novel, The Stranger (or The Outsider), was published on this day in 1942. This was the same year that the movie Casablanca was released, and the most reproduced photographs of Camus show him looking like Humphrey Bogart—overcoated, cigaretted, and attractively worn-out. But the similarity is more than image-deep: people like Victor Laslo, the Resistance leader that escaped Casablanca, taking Rick's one and only with him, did so with the help of people like Camus. Camus was Algerian-French, and too tubercular to join the army; instead he helped the underground railway that shipped Jews and political refugees from southern France to Oran, then west across Morocco to Casablanca, then Lisbon and out.
The more remarkable parallel is that The Stranger also managed to slip by the Nazis. With the paper shortage, getting a book published in France during World War II was difficult enough; getting clearance from the Propaganda Ministry was an even larger obstacle. The Nazis of 1942 were not the avid burners of a decade earlier, but the prohibitions were systematic and effective: nothing against Hitler and Homeland, nothing for Jews, nothing subversive or, in Nazi Newspeak, "inflammatory." That the watchdogs of totalitarianism should judge The Stranger to be harmlessly apolitical may be one of the larger ironies in the history of publishing and censorship. The novel has become one of the 20th century's most famous arguments, if not anthems, against the compulsions of state and society.
Camus felt that his novel was misinterpreted by not just the Reich but those first reviewers who interpreted it as a cold and gloomy existentialist tract. In his notebooks, Camus raged at the "puny morality" and "shopkeeper's philosophy" of the critics who regarded him as detached and despairing. In public, he pointed to his essays on "absurd creation"—essays which contain lines such as, "The individual can do nothing and yet he can do everything…. I am on the side of struggle." He might also have pointed to other essays, written at the same time he was writing The Stranger, on the need for a 40-hour work week, or to his editorial job on the newspaper Combat, which took the motto, "In war as in peace, the last word is said by those who never surrender."
---
Daybook is contributed by Steve King, who teaches in the English Department of Memorial University in St. John's, Newfoundland. His literary daybook began as a radio series syndicated nationally in Canada. He can be found online at todayinliterature.com.