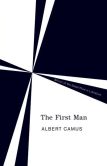 A man's work is nothing but this slow trek to rediscover, through the detours of art, those two or three great and simple images in whose presence his heart first opened.
Albert Camus was born in Mondovi, Algeria, a hundred years ago today. Camus's father, a day laborer, died in WWI, and Camus was brought up by his illiterate, deaf mother and his grandmother. In The First Man, his last, incomplete novel, Camus included many details of his impoverished early life — no electricity, water, bathroom or even oven, Camus and his brother in charge of taking family food to a local shopkeeper for cooking. Camus's notebooks also sketch out, in emotional if not actual detail, how The First Man would conclude:
The end…. "Return the land. Give all the land to the poor, to those who have nothing and who are so poor that they never wanted to have and to possess, to those in the country who are like her, the immense herd of the wretched, mostly Arab and a few French…and then I, poor once more and forever, cast into the worst of exiles at the end of the earth, I will smile and I will die happy, knowing that those I revered, she whom I revered, are at last joined to the land I so loved under the sun where I was born."
---
Daybook is contributed by Steve King, who teaches in the English Department of Memorial University in St. John's, Newfoundland. His literary daybook began as a radio series syndicated nationally in Canada. He can be found online at todayinliterature.com.