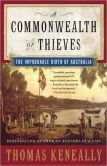 On this day in 1788 Captain Arthur Phillip brought the first British convict ships to anchor in Botany Bay, Australia. Over the next eighty years 825 such ships would bring 160,000 men and women to serve their "transportation" sentence — seven years for most, fourteen or life for some, no time at all for the significant number unable to survive the eight-month voyage. Captain Phillip went on to become the first governor of Australia, and today became Australia Day — the nation so proud of being bad-to-the-bone that websites such as convictcentral.com offer a full listing of all those transported and an adopt-a-service for those disappointed to find no founding criminals in the family tree.
In fiction, the most famous of these convicts is Magwitch from Great Expectations. More recent books in this line include Thomas Keneally's The Playmaker, adapted by Timberlake Wertenbaker into the award-winning play, Our Country's Good. Keneally's story is based upon a real one: in honor of the King's birthday, a group of Sydney convicts are recruited to perform George Farquhar's 1706 comedy, The Recruiting Officer. The myriad of obstacles to a successful production include the possibility that the leading lady might be hanged before opening night. The life of such women is told in Sian Rees's The Floating Brothel: The Extraordinary True Story of an Eighteenth-Century Ship and its Cargo of Female Convicts. Keneally has also written a novelized history book on his nation's origins; the opening paragraphs of A Commonwealth of Thieves: The Improbable Birth of Australia (2007) emphasize the improbability of those first convicts surviving, let alone becoming a nation:
The merchant ships of the fleet were to return to Britain after discharging their felons, picking up cargoes of cotton and tea in China and India on the return journey. But because this outward cargo was debased, some in Britain expected never to hear again from the fleet's passengers. It was believed they would become a cannibal kingdom on the coast they were bound for, and — one way or another — devour each other.
---
Daybook is contributed by Steve King, who teaches in the English Department of Memorial University in St. John's, Newfoundland. His literary daybook began as a radio series syndicated nationally in Canada. He can be found online at todayinliterature.com.