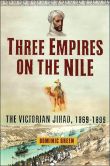 The ten-month siege of Khartoum began on this day in 1884. The storied event is engaging from multiple angles — as a case study of imperialist arrogance and ineptitude, as the last chapter in the dashing and controversial life of General Charles George Gordon, as the first jihad and the modern world foretold:
In a major Arab nation a secular tyranny is toppled by Western intervention, but an Islamic backlash turns the liberators into occupiers. Caught between interventionists at home and radical Islam abroad, a prime minister flounders. His ministers betray him, his alliances fall apart, and a runaway general makes policy in the field. As the media accuse Western soldiers of barbarity and a region slides into chaos, the Armies of God clash on an ancient river, and an accidental empire arises. This is not the Middle East in the twenty-first century….
The excerpt above begins Dominic Green's Three Empires on the Nile: The Victorian Jihad, 1869-1899. Green's study of three colliding cultures — European, Islamic, African — has breakneck momentum over its entire thirty-year range, and his account of the Khartoum siege is a front-row seat to an unrelenting five-act tragedy.

As the standoff begins, Gordon is doubly defiant, refusing to heed either his government's orders or the repeated threats from Muhammad Ahmad, the self-proclaimed Mahdi (Islam's prophesied redeemer). "The enemy has established himself about ten miles from here," Gordon writes his brother in mid-March, "and we hear his drums from the palace. We are well off for food, and the people are in good spirits." When the Mahdi sends him a Dervish coat and an invitation to "renounce your infidel faith," Gordon cuts all communication. When the Mahdi cuts the garrison's telegraph lines and then captures its cipher books, making it impossible to decode any of London's hand-delivered messages, Gordon only welcomed, says Green "a mortal drama devoid of grubby politicians."

But the messages from London would only have stated what was soon all too clear — that political bickering had delayed reinforcements until it was too late. At the end, Gordon's only conversation was with himself:
Gordon turned to his journal for solace. It became the repository of the details of the siege — the hours spent scanning the northern horizon for a smear of steamer smoke, the ceaseless patrolling of his lines and counting of his biscuit supplies, the mounting claustrophobia and filth in the streets, the crowds pulling at his sleeve begging for food — and the vent for his private suffering, the hidden fear and anger with which he faced death.
---
Daybook is contributed by Steve King, who teaches in the English Department of Memorial University in St. John's, Newfoundland. His literary daybook began as a radio series syndicated nationally in Canada. He can be found online at todayinliterature.com.