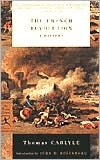 Thomas Carlyle was born on this day in 1795. Carlyle found fame through his three-volume The French Revolution, which united scholarship and literary style in such a compelling way that it inspired Charles Dickens to A Tale of Two Cities. Dickens went on to dedicate Hard Times to Carlyle, seeing in the great historian and essayist a like-minded spirit — a skeptic of headlong industrialization, a champion of social reform, a critic of those "Gradgrind" social scientists who argued only with facts and figures, or with "the dismal science" (Carlyle coined the term) of economics.

But that was midcentury; by the Reform Act of 1867, which gave the vote to many at the lower end of the class ladder, Carlyle had changed his direction and was well down the conservative path. In "Shooting Niagara — and After?" (1867), he predicts that English society, despite the "self-congratulation and flinging up of caps" over the reforms, is headed for the falls in three barrels. Barrel One is the contemporary concept of democracy:
Complete "liberty" to all persons; Count of Heads to be the Divine Court of Appeal on every question and interest of mankind; Count of Heads to choose a Parliament according to its own heart at last, and sit with Penny Newspapers zealously watching the same said Parliament, so chosen and so watched, to do what trifle of legislating and administering may still be needed in such an England, with its hundred and fifty millions "free" more and more to follow each his own nose, by way of guide-post in this intricate world.
Barrel Two is the watering-down of religion "into Liberty of Conscience, Progress of Opinion, Progress of Intellect, Philanthropic Movement, and other aqueous residues [which shall], like water spilt upon the ground, trouble nobody considerably thence forth, but evaporate at its leisure." In the vacuum shall rise up Barrel Three, "Free Trade, in all senses, and to all lengths." As Carlyle sees it, this will bring a free racing, "ere long with unlimited speed," toward what is "Cheap and Nasty…not in shop- goods only, but in all things temporal, spiritual and eternal."
---
Daybook is contributed by Steve King, who teaches in the English Department of Memorial University in St. John's, Newfoundland. His literary daybook began as a radio series syndicated nationally in Canada. He can be found online at todayinliterature.com.