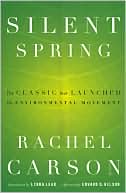 Rachel Carson's Silent Spring was published on this day in 1962. Carson's fourth and most provocative book on nature opens in once-upon-a-time fashion, describing "a town in the heart of America where all life seemed to live in harmony with its surroundings." A few paragraphs later, fairyland is in the grip of some sorcerer's spell:
There was a strange stillness. The birds, for example—where had they gone? Many people spoke of them, puzzled and disturbed. The feeding stations in the backyards were deserted. The few birds seen anywhere were moribund; they trembled violently and could not fly. It was a spring without voices…only silence lay over the fields and woods and marsh.
And several paragraphs after that, Carson is asking the sort of question that made her book an immediate bestseller, had the biochemical companies up in arms, and had her making presentations to governmental committees:
These sprays, dusts, and aerosols are now applied almost universally to farms, gardens, forests, and homes—nonselective chemicals that have the power to kill every insect, the "good" and the "bad," to still the song of birds and the leaping of fish in the streams, to coat the leaves with a deadly film, and to linger on in soil—all this though the intended target may be only a few weeds or insects. Can anyone believe it is possible to lay down such a barrage of poisons on the surface of the earth without making it unfit for all life?
The environmental movement is gearing up for 2012—the fiftieth anniversary of Silent Spring, the twentieth anniversary of the Earth Summit in Rio de Janeiro, and the fortieth anniversary the first global environmental conference, in Stockholm.


* * *
The world is a mirror of Infinite Beauty, yet no man sees it. It is a Temple of Majesty, yet no man regards it. It is a region of Light and Peace, did not men disquiet it.

— From First Century, Meditation 31, by the mystic poet-priest Thomas Traherne, who died on this day in 1674
---
Daybook is contributed by Steve King, who teaches in the English Department of Memorial University in St. John's, Newfoundland. His literary daybook began as a radio series syndicated nationally in Canada. He can be found online at todayinliterature.com.